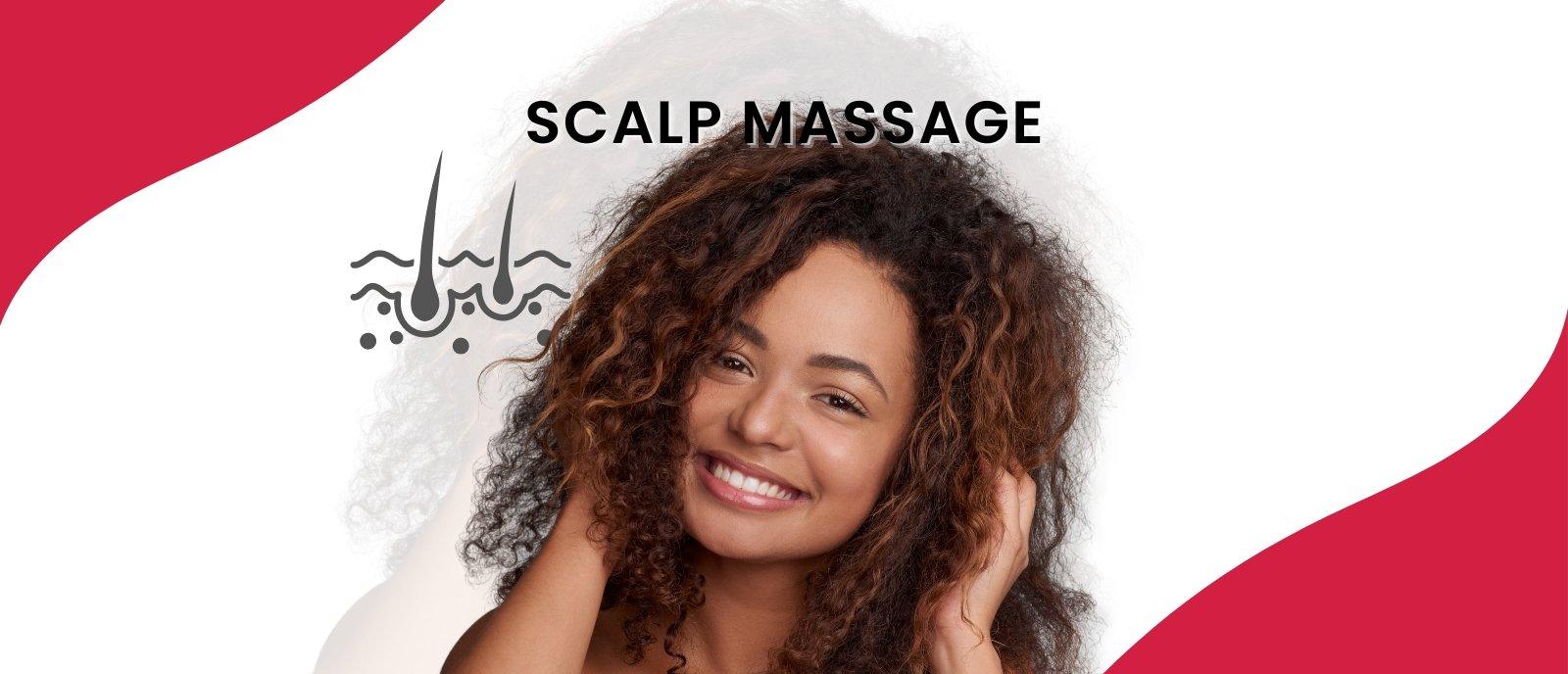 Benefits of Regular Scalp Massage
And when it comes to hair routine, no matter what hair type you have, you can never go wrong with incorporating scalp massage every now and then. Not only does it relax you, but it also helps you achieve beautiful hair.
Scalp massage is very beneficial and essential for natural hair growth. According to recent studies conducted in 2018, most people gain ½ to 1 inch of hair every month.  But with a routine scalp massage, one can gain up to 1 to 1 and ½ inches of hair every month.  That's a whopping  50% to 100% hair growth increase.  Scalp massage stimulates blood circulation to the follicle at the bottom of the hair and thus helps bring nutrients to the hair roots to promote hair growth.
How to scalp massage helps hair growth
At the root of the hair strand is the follicle. The follicle contains cells and connective tissue and provides nutrition for hair growth. Blood from the blood vessels in your scalp feeds the root, which creates more cells and makes the hair grow.
Scalp massage can promote hair growth, and promotes an increase in blood flow to the hair follicles. That may be part of why your stylist treats you to a vigorous shampoo when you have a hair appointment. Head massage may also help with lymphatic drainage, which is purported to move toxins and waste from cells. Both circulatory boosts can encourage the growth or thickening of hair, which can make it more resistant to damage and breakage.
Other benefits of scalp massage
Let's look at some of the key reasons that scalp massage is so beneficial.
Relieves tension, stress and headache

It lubricates and conditions the scalp

It helps enhance blood circulation

It helps strengthen the roots of the hair

It helps soften and condition the hair

 It spreads the natural oils of the hair

 It helps improve hair's resilience

 It is Replenishing And Rejuvenating

Helps promote sound sleep

Control Oily Scalp
How To Do an At-Home Scalp Massage
You can do a scalp massage just about anywhere and anytime, though many women enjoy them right before a shower when the hair is still dry or during a shower while shampooing. Using a scalp massaging serum or essential oil can increase the therapeutic effects
Whether you have wet or dry hair, make sure to use your fingertips (if no help scalp massager is available)  rather than fingernails, because they can break delicate hair strands. If you're massaging your scalp in the shower, brush through your hair first to get out any knots. This will reduce your chances of damaging the hair by tugging too hard.
Add a few drops of essential oil or serum to your fingertips if you so choose, then start at your neck near the base of your hairline. This is an area where many people unknowingly hold a lot of tension. Make checkmark motions with your fingertips two or three times, moving slowly from the edge of your hairline to the crown. This gentle kneading warms up your scalp, which is a great way to stimulate blood flow. Scalp massages work best when they're done consistently, so aim for daily rubs to see the best results.
But if using your fingertips is not enough. You can use a scalp massager in an easy and more convenient way. Just use a safe and right massager for your scalp. Here are a few suggestions.
ANTI-STATIC HAIR SCALP MASSAGE HAIRBRUSH FOR WOMEN
Scalp massager shampoo brush is a fabulous starting point if you're new to the scalp massage game. Its gentle silicone tips scrub your scalp, lifting away dead skin cells. You can use it in the shower with your favorite hair-thickening shampoo or on dry hair.