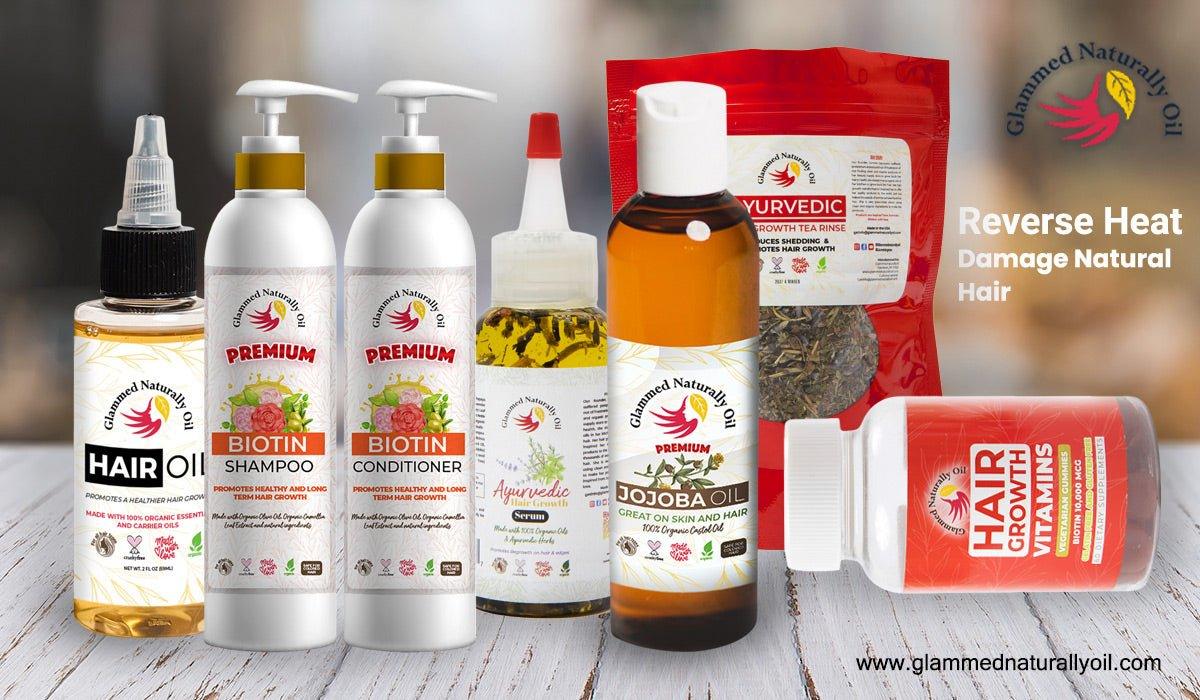 5 Natural Ways To Reverse Heat Damage Natural Hair
Have you damaged your hair by excess use of hair heating tools? Actually, this is not very surprising because applying too much heat on soft and dead tissue weakens it from inside. But you must not worry when you can cure it just by sitting at home. With 100% natural practices you can reverse heat damage natural hair. If you are eager to know in detail follow this blog till the end.  
Applying Coconut oil.
If you are applying heat on your hair for a very long time then you have almost destroyed it. With rare dryness, in your tissue, it probably became thin by now. However, in this situation, coconut is your savior.
The best way to repair any kind of hair problem is by using coconut oil before a bath. Especially when you have dull and dry hair due to excess heat. Coconut oil is a tried-and-true hydrator that hydrates hair tissue from the inside.
Apply Cold Water and Tea Rinse.
If heat made your hair's cuticle rise, the only way of solving is by applying cold water and tea sinse. According to a study, those who rinsed their hair burned and dry hair with tea rinse and cold water are more likely to have good and healthy hair growth in the future.
If you want to reverse heat damage natural hair then you must start applying cold water and tea rinse from now on. Cold water is just to moist your hair, while tea rinse is for engaging your hair with natural vitamins and minerals which will promote tissue growth of your hair.
Deep condition with olive oil.
If you don't know olive oil is one of the best anti-infalamatory materials. You can use it in your hair if you have burned your hair with hair heating equipment. Moreover, olive oil is a hundred % natural product, which is very beneficial and keeps zero side effects on your hair. Since heat styling products mostly affect your hair follicle and your hair, this natural ingredient is best due to its softening and conditioning quality.
The best way to apply olive oil is by massaging it anytime with very light pressure. By this process, olive oil will slowly sink under your scalp and hair tissue and do its business.
Apply Rosemary Oil
If you are more into haircare then you must have heard of this extraordinary product. And this is another most important natural remedy to reverse heat damage natural hair. When you completely damage your hair with heat cosmetic tools and made it fragile and easily pluggable, this oil might help you out. From hair strength to the cellular growth of the scalp both could be gained with help of rosemary oil.
According to some studies, this oil acts as minoxidil. This is a typical hair growth therapy to keep your hair nourished and prevent thinning.
Apply Tea Tree Oil Once In A Week
Do you know what is the most common problem you can face for using hair heating tools on your hair? Yes, hair dryness including scalp dryness. You might think how is it even possible. Actually, when applying heat to your hair you are indirectly applying heat to your scalp. However,  the only solution for this is tea tree oil as an exact remedy to reverse heat damage natural hair.
These highly anti-bacterial oils are the best moisturizers for your hair and scalp. It's a huge beneficial quality is very quick to work on your hair. Moreover, the vitamins and mineral content in tea tree oil promotes the health of your hair.
If you accidentally overheated your hair and now suffering from annoying consequences then you must follow those above-mentioned ways to reverse heat damage natural hair. By these 5 natural ways, you can regain natural strength moisture and nourishment in your hair. And obviously, abandon using hair heating equipment. You can get all these natural hair care products from our online store, which includes a Hair loss regrowth kit, a healthy hair kit bundle, Handmade hair growth oil, Natural Hair Products for Kids, Bald spot treatment, the best hair growth oil. Know more by vising our website.