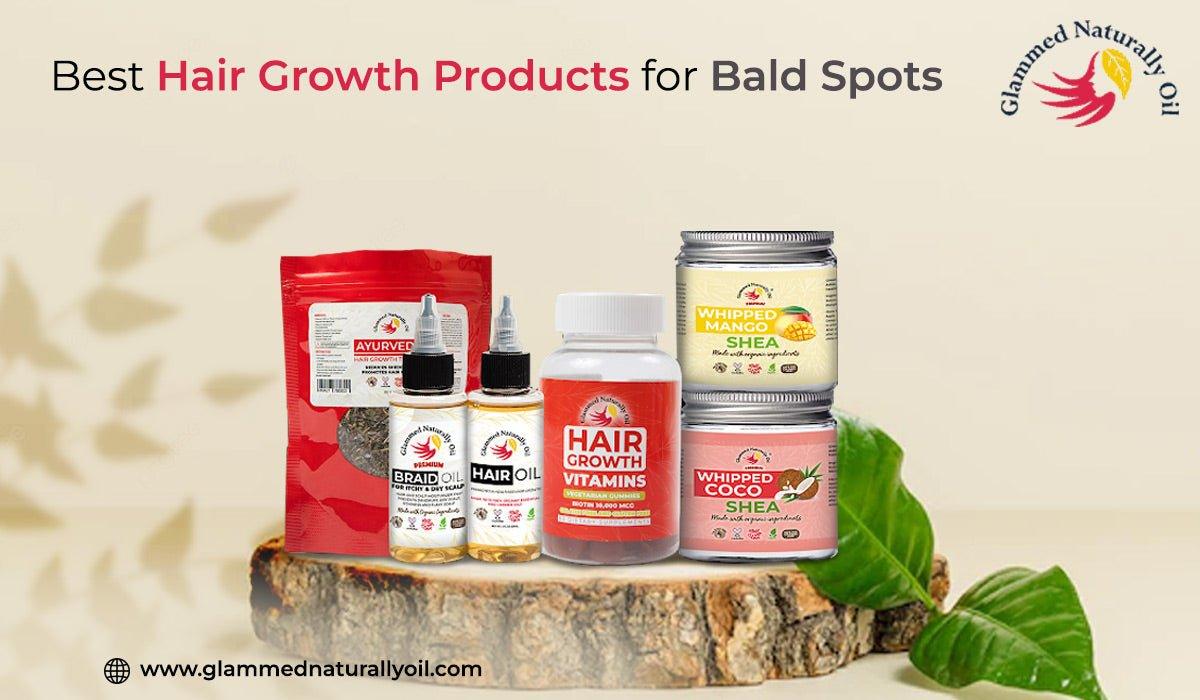 Five Best Hair Growth Products For Bald Spots And Their Benefits
Are you shedding a lot of hair strands lately? Well, It may be due to an improper diet, taking too much stress, or using chemical-based products. Chemical-based products tend to clog your hair follicles, dry out your hair edges, and make your hair frizzy. And all these things can lead to hair fall and bald patches. 
There are plenty of best hair growth products for bald spots available. Firstly, you should choose your hair products according to your hair type. Also, make sure the product has all organic elements. 
Through this write-up, we will disclose the name of the 5 best products that are clinically tested to regrow hair on your bald spots. So, let's delve into it! 
Top hair growth products for bald spots and their benefit
In your daily life, you lose around 50 to 100 hair strands per day, if the number exceeds, it's a matter of concern. But worry not! You can regrow your hair fast if you use the right product. Today, in this blog, we'll discuss some of our best hair growth products for bald spots, and their ingredients. and benefits.
Hair growth oil
If you're struggling and trying various products and home remedies to grow hair on bald patches, our hair growth oil can be of special help. In case, if you're suffering from alopecia or bald spots then try this hair growth oil to get thicker hair. And it also helps to seal the hair shaft. You can also apply our pure castor oil on hairline and treat your bald patches. 
Well, all the credit goes to its 100% organic ingredients! Packed with organic castor seed oil, organic extra virgin olive oil, tea tree extract, etc., the oil stimulates your scalp and encourages your hair follicles to regrow. 
Ayurvedic Hair Growth Serum
The next name in our list of the best hair growth products for bald spots is our ayurvedic hair growth serum. Our hair serum is made from 100% ayurvedic herbs, organic essential oils, and carrier oils that are well known for their healing and restorative properties. 
Enriched with organic hibiscus flower petals, organic rosemary leaf, organic lavender flowers, nettle leaf, etc., the serum not only helps to boost the volume of your hair but also makes it lustrous and healthy.  
Take a small quantity of the serum, apply it gently to your bald patches, and massage it for a few minutes. Use it regularly for 2 to 8 weeks, and see the result yourself!  
Hair Growth Moisturizing Shampoo
Our hair growth moisturizing shampoo does not just cleanse your scalp, it has more to offer your hair! It helps to strengthen the hair follicles, provide nourishment, and hydration, and encourages hair growth at the same time. 
All the ingredients used in the best hair growth products for bald spots tremendously encourage hair growth. To name a few, the shampoo has the goodness of organic horsetail plant, organic nettle leaf extract, organic sage extract, Korean Ginseng extract etc. 
Hair growth Moisturizing conditioner
It is not just a conditioner but is a hair treatment that helps to restore damaged and thinning hair. The moisturizing conditioner deeply conditions your hair, making it super soft! 
The restorative benefits of botanical extracts and vitamins used in the product help to promote healthy, strong regrowth of hair. It contains olive, jojoba, and hemp seed oil that smooths your hair, adding a healthy shine to it. 
Glammed Biotin Gummies
Who says hair treatment has to be tedious? Now growing long and strong hair is both fun and delicious. Our mouth-water strawberry flavored biotin gummies can mitigate multiple hair issues! For instance, if you have thin hair, rough and damaged hair, or bald patches, start intaking our hair growth supplement. In just 3 months, you can grow long, strong, thick, and shiny hair strands. 
This edible hair growth product is processed with all-natural ingredients like sugar, glucose, citrus pectin, citric acid, Sodium citrate, and natural strawberry flavor. 
Conclusion
So, these are some of the best hair growth products for bald spots that we prepare organically. If you want to buy the best hair growth oil, organic hair loss products, hair growth shampoo for men and the best natural hair care products for American hair, visit our website today!