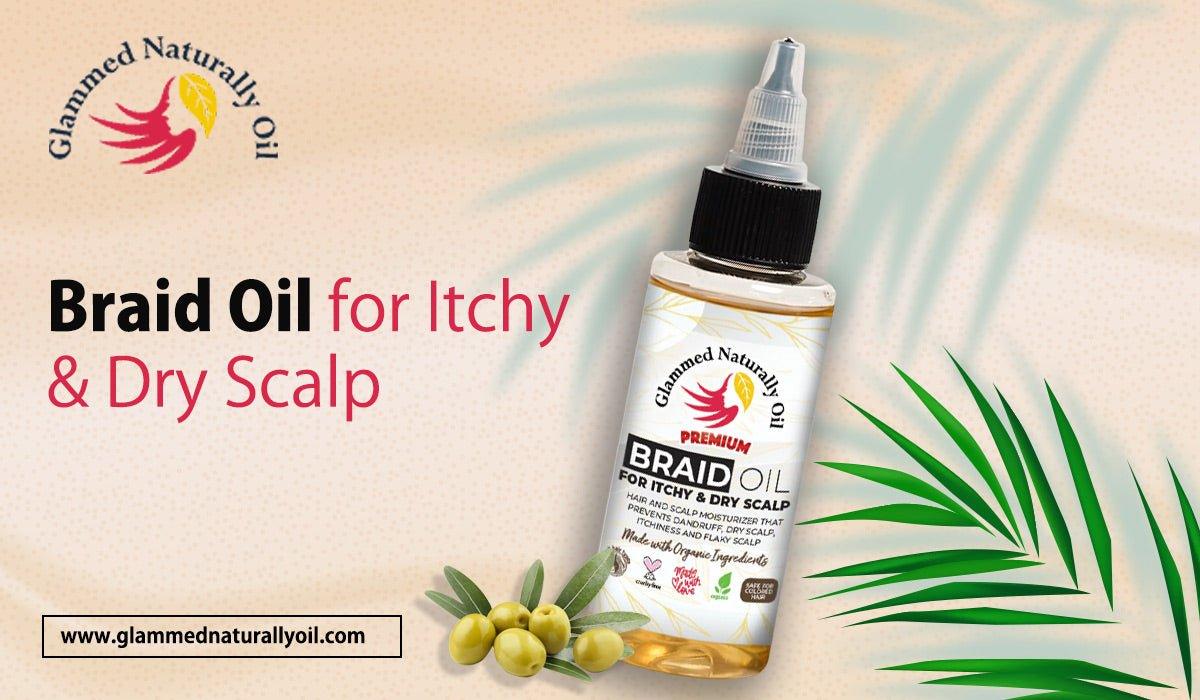 Organic And Natural Braid Oil For Itchy & Dry Scalp: Types And Use
Though braided hair gives you an appealing look, this common hairstyle incorporates various hair-related problems. And the most common problem you are going to face with this hairstyle is dry and itchy scalp.  When you are already witnessing hair fall issues, a dry and itchy scalp feels like a big blow on it. But do you know you can mitigate such problems just by using organic and natural braid oil for itchy and dry scalp? To know that in detail, read the blog and learn the types and use of these oils.
4 Main Types Of Organic And Natural Braid Oil For Itchy & Dry Scalp
Rosemary Oil
It's impossible to slide this natural ayurvedic oil when the debate is on the best dry scalp treatment. Firmly this oil is known for its dandruff-killing ability, and since dandruff is the main reason for increasing contamination and itchiness in your scalp this oil is a perfect choice for your braid hairstyle. And the dandruff killing ability of this oil makes it the best braid oil for itchy and dry scalp.
Coconut oil 
Braids are one of the most complicated hairstyles you can ever get. And when you hardly take care of it, you grow rough and dry scalp. But do you know what mitigates roughness from your hair? Coconut oil!  The vitamins, minerals, fatty acids, etc, this oil has everything that you need to fight dry and rough scalp along with itchiness. Moreover, this oil helps you in retaining moisture content on your scalp. 
Lavender Oil 
Lavender oil is another most effective braid oil for itchy and dry scalp you need to use if you are facing chronic dry and itchy scalp problems. The best way to remove scalp and itchiness from your hair is by considering lavender oil. From the immense power of hair growth to the treatment of the itchy scalp this oil control it all. Additionally, the antibacterial and anti-fungal quality of this oil helps you to erase germs, which results in the prevention of itchyness.
Sesame Oil
When you are annoyed with the itchy scalp in your head the only natural and organic oil that can rescue is sesame oil. This oil is also considered the oldest hair remedy for your hair. Due to the immense power of sesame seeds, it was once considered a seed for immortality in certain cultures. However, Its nourishing and warming quality makes this oil a perfect head massage.
5 Main Benefits Of Using Organic Braid Oil For Itchy And Dry Scalp
Nourish your hair
You might be unaware that nourishment is the key to a healthy hair braid. And a braid oil for itchy and dry scalp is a nourishing agent that revives your hair with nourishment. 
Reduce dandruff
By using organic oil you can reduce dandruff from your hair and keep your braid intact. Herbs like lavender, sesame, etc have antifungal, and antibacterial properties to treat dry scalp and stimulate hair growth.
Manage Braided Hair Breakage
Hair breakage is common when you have a braid in your hair. But it can becontrolled when you some of the best braid oil in your hair. By Considering ayurvedic braid hair oil you get various nourishment and hair healing qualities, which ultimately reduces hair breakage.
Improve Braided Hair Texture
Braid oil also treats rough hair and improves the texture of the hair. Natural ingredients like almond oil, castor oil, rosemary oil make it the best solution to grow your hair.
Healthy Braided Hair Tissues
The last and fifth benefit you get by using natural and organic braid oil for itchy and dry scalp is healthy hair tissue. You might know that without healthy hair tissue, your braid knot won't look good and tight. Along with that this also incorporates the risk of shedding. But by using ayurvedic braid hair oil you can repair hair tissue and make your scalp healthy.
Hopefully, the write-up has  helped you to get detailed knowledge of different organic oil and how they can benefit you. To get, organic braid oil along with
hair gel for men
,
best hair oil for men
,
Ayurvedic hair growth oil
,
Fast hair growth oil
visit our official website now!