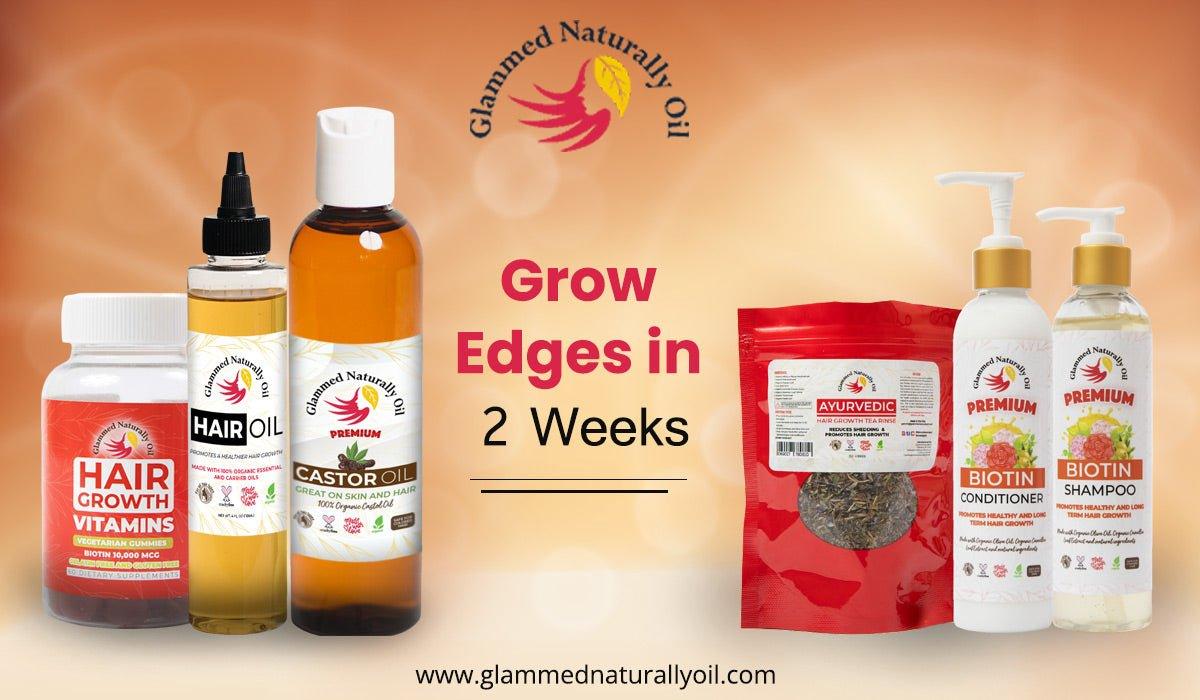 How To Grow Edges In 2 Weeks Naturally: 7 Natural Remedies
Are you annoyed with hair shedding from the edges? Well, who is not? Low hair in the edges is not only demoting your beauty but also leads you towards baldness in near future. So if you are one of them facing this problem, you must immediately consider some natural remedies as prevention. However, if you dont know better how to grow edges in 2 weeks naturally, then follow this blog till the end.
5 Natural Remedies That Shows How To Grow Edges In 2 Weeks Naturally
There are 5 natural ways or remedies that show how to grow edges in 2 consecutive weeks. They include:
Black Castor Oil
The first natural remedy on our list is black castor oil. When you question how to grow edges in 2 weeks naturally this thing pops into our mind first. Though various natural oils need to be first on this list. But the special quality of this oil defeats all. 
This African remedy not only promotes your hair edges but also adds strength to hair. The variety of vitamins, minerals, and nutrition in this oil sinks in your hair scalp and starts working from your roots. It is an effective home remedy for thinning edges. All you need to do is: apply the oil with a light massage in your hair.
Rosemary Oil
And the second remedy on our list is rosemary oil. Now if you are a lot into hair care then you might have heard of this product. This oil is not just famous for its hair utility but also famous for instant utility. So if you are willing to cure your hair edge thinning then this would be a better choice. You would probably start noticing the results within two weeks.
Moreover, this oil can improve the cellular generation of the scalp. And since the dry scalp is the other reason for hair edge thinning this oil is a must-use.
Avoid Tight Style
This point is not particularly a remedy but more like an instruction. However,  if you want to know how to grow edges in 2 weeks then you need to know this. You might like to have perfectly straight and tight hair, but this actually leads to thin hair edges. If you don't stop practicing it, you will not get the fruitful result of any natural remedies you use.
So if you are willing to grow your hair edges naturally, you must stop doing a tight style first.
Lavender Oil
The other most vital oil you can use as a remedy when you suffer from hair edge thinning is lavender oil. Lavender oil has been found effective in functioning as a hair growth stimulant. Moreover, this oil is proven to eliminate germs and infections from your hair scalp. Also, anti-inflammatory contents in this oil nourish your hair. All these qualities combined help your hair edges with strong and thick hair.
The best way to apply this oil to your hair is by applying it directly. If this oil is very thick then make sure to mix it with olive oil or coconut oil before applying it to your hair.
Fenugreek Seeds And Oil
When you ask how to grow edges in 2 weeks, the fenugreek seed oil is the perfect answer for it. This Asian and Mediterranean plant provides you with seeds that are 100 % effective for treating your hair edges thinning.
Nutritionally, this oil and seed contain protein, nicotinic acid, vitamin A, vitamin K, vitamin C, folic acid, potassium, calcium, and iron. And this nutritional content not only boosts your hair growth but also stimulates the health of your hair.
With wound healing capabilities this oil also helps you with hair density. This natural oil or seed contains lecithin and nicotinic acid that rebuild your hair follicles stimulating the hair growth, making your hair strands thicker, longer and stronger.
So if you are asking how to grow edges in 2 weeks, then these 5 natural remedies are going to help you out. With multi-nutritional qualities, they often help your hair edges to grow better and thicker hair. To grow your edges fast you must visit our website and click the buy now option to buy these products. We also provide natural hair growth oil, mango butter moisturizer, coco shea coconut body butter to maintain your hair health. Hopefully, now you're aware how to grow edges back in a week or two.