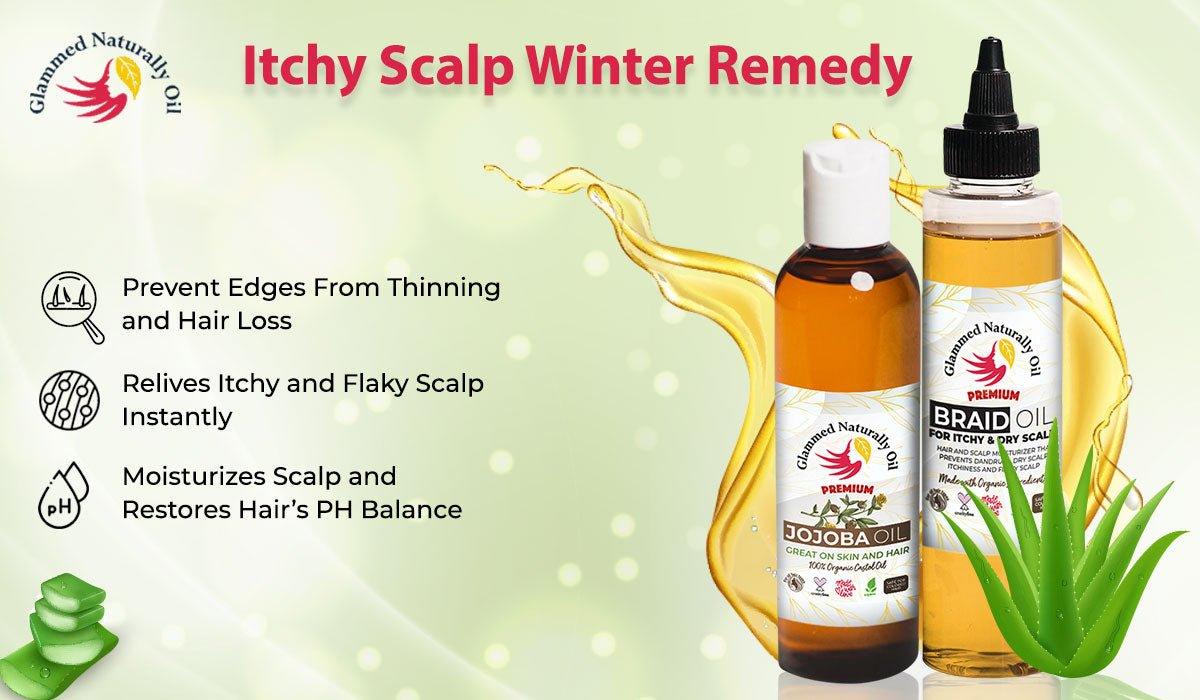 Itchy Scalp Winter Remedy: Secret Revealed
So, the hoodie season is back to let you cuddle up in your cozy blanket! But do you feel your hair does not love the chilly weather as much as you do? Well, you are not alone; around 50% of the population across the world encounters the problem of the flaky and itchy scalp in the colder months. And the one to blame is scalp dryness. Worry not, as we will discuss top itchy scalp winter remedy that you can easily do at home! 
Nourishing oil as Itchy scalp winter remedy
Healthy hair is a sign of a healthy scalp. If you notice an excessive hair fall, rough and frizzy hair, your scalp is surely suffering some underlying issues, mostly dandruff. A revitalizing hair and scalp massage with your favorite nourishing hair oil can be the perfect itchy scalp winter remedy! Scalp massaging treatments remove the dead skin cells, promote blood circulation, locks moisture, resulting in the itch-free scalp and lustrous hair.
But which oils to pick? If the same thought appears in your mind, the following can be your best choices! 
Jojoba oil
Adding jojoba oil to your daily hair care regime or using hair care products with argan oil in it is undeniably a good choice! Enriched with hair-friendly minerals and vitamins, jojoba oil is clinically proven to treat dry and itchy scalp.
How to use jojoba oil?
You can apply jojoba oil to your scalp in the following ways:
Warm the oil slightly and massage it directly to your hair and scalp
Use two to three drops of oil and mix it with your regular shampoo while washing your hair.
Add the oil to your DIY hair masks
Or simply buy a product that has jojoba oil in it.
If you are not into DIY and prefer buying ready-made organic hair care products, you can go for Glammed Naturally Oil's braid, oil, which is specially formulated with jojoba oil, rosemary oil, lavender oil, to treat dry scalps and dandruff. On the other hand, if you love to experiment with DIY hair masks, choose our 100% pure jojoba oil and prepare your custom hair mask.
Sesame seed oil
Rich in antifungal and antibacterial properties, sesame oil is considered the best itchy scalp winter remedy! Also, the occlusive properties in it keep your scalp well hydrated and moisturized even in the chilly temperature. Alongside working on the dry and flaky scalp, the oil is known well for its hair growth benefits and is thus used in several hair growth products for bald spots. To add a cherry to the top of the cake, let's know an interesting fact about sesame oil! If you apply the hair oil regularly, you can prevent premature hair graying and split ends!
How to apply sesame oil to your hair?
You can apply the oil to your scalp and hairline directly. However, for better results, you can:
Mix the oil with sweet almond oil
Prepare an oil-based mask, adding vitamin E and B
Buy an Ayurvedic hair growth oil formulated with sesame oil
Margosa leaves
The Asian herb, margosa, or neem is world-popular because of its anti-bacterial, and anti-fungal properties. It is probably the best and the cheapest itchy scalp winter remedy you can ever try out! Margosa not only eases scalp infection, but also treats dandruff and itchy scalp.
How to use margosa leaves on hair?
You can either use products formulated with neem or margosa or practice the below-enlisted DIYs
Soak the leaves in water overnight, make a fine paste and apply it to your scalp
Boil the neem leaves, drain the water, and spray it on your scalp.
Crush the leaves, extract the juice and add it to your hair oil before applying
Do you know if you follow the right hair wash routine, many of your hair problems, including dandruff and itchy scalp will be cured in their own? Here, we share some secret hair washing tips to follow in winter:
Shampoo frequently
Choose an organic and moisturizing shampoo
Don't wash hair with hot water
Massage your scalp with any of the above-mentioned oil before shampooing
So, which itchy scalp winter remedy will you start with? Our Itchy scalp bundle contains 100% organic ingredients that helps keep your scalp healthy and promote a healthier hair growth. Remember healthy scalp is health hair!
If you have a passion to grow longer hair, choose our fast hair growth oil. Our hair care products are prepared with different herbs for hair growth. Well, you can also try our organic best hair oil for men and hair growth shampoo for women.