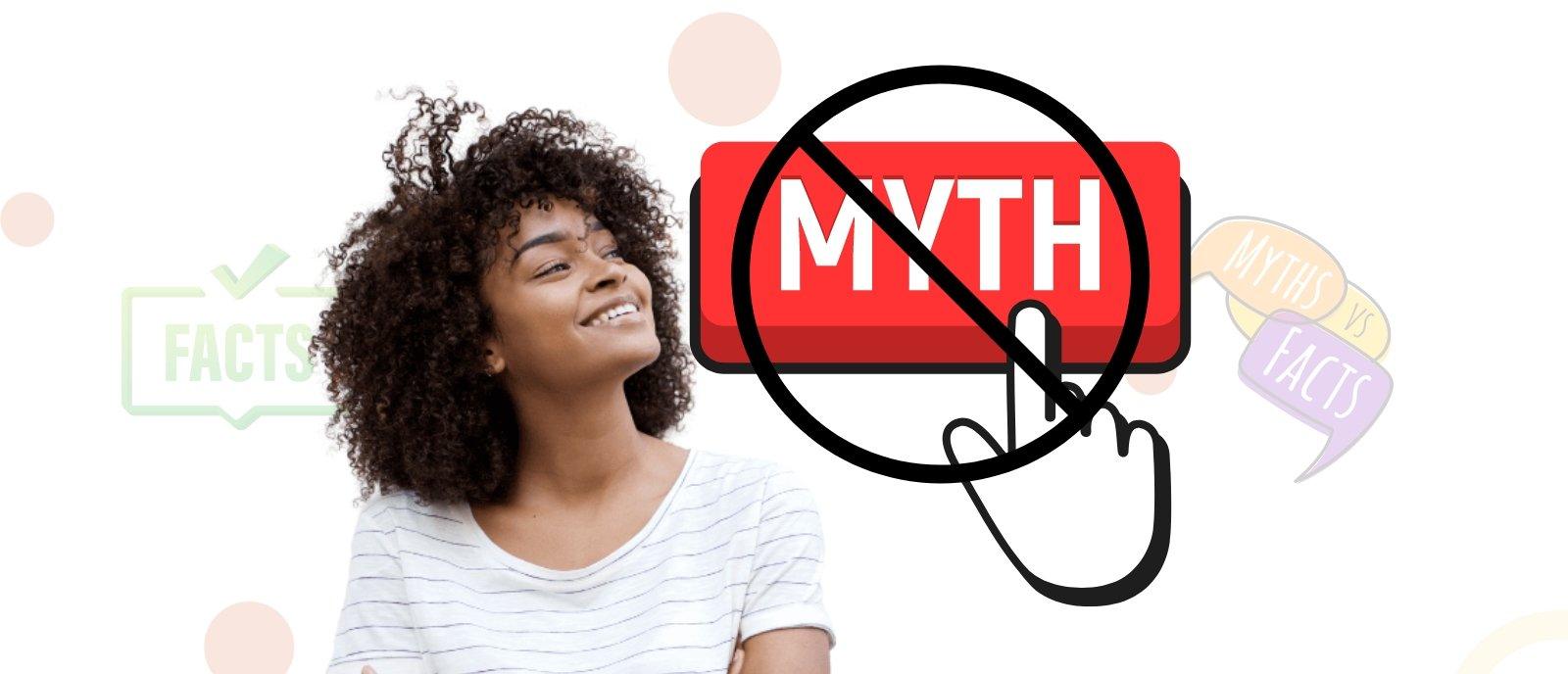 Myths That You Shouldn't Believe About Your Natural Hair Care
There are so many interesting theories as to why afro hair is so unique; one being the fact that the hair evolved to sustain the African heat. The light density combined with the coil shape gives off an airy effect that makes the hair able to retain its springiness under moisture such as sweat or humidity. 
One major complaint from my relaxed girls is that they just don't have the time to maintain healthy natural hair and the common fear is breakage. Oh Please, if you have three hours to spend on monthly relaxers or the half hour it takes to unwrap your locks and style accordingly each day, then you have time to be natural.  Just think of it as project management for my hair. "What will my hair get up to this week?" ask yourself, then plan accordingly. Here are some serious hair myths that need debunking!
Natural Hair Care Products Makes My Hair Dry and Stiff
Most of what makes your hair feel as if it's healthy is made up of Silicones, dimethicones, and polymers, which are more or less plastics. Once your natural oils are stripped from your hair during your shampoo routine, these agents come in and add a fake gloss. So, while your locs may look healthier, they are not. Truly natural hair products are in fact designed to feed your hair with all the nutrients it needs to grow strong and healthy without the danger, but with all the love of nature. Wanted to go all natural without damaging your coils and curls? Try Glammednaturallyoil Products. These products are 100% organic and natural so you can rest assured that your hair and scalp is 100% safe. 
Grease On Your Scalp Can Make Your Hair Grow Faster
Greasing your scalp is a terrible idea and it will not make your hair grow. In fact, petroleum or mineral oil based products tend to smother the hair shaft and diminish the amount of toxins your mane can fight off. If you're looking to give yourself a solid scalp treatment to treat the root of a growth problem, use castor oil or an all-natural carrier oil that can put the moisture back into your scalp with little negative side effects. Try Glammednaturally Castor Oil
When Your Hair Is Relaxed it Is Easier To Manage
As mentioned above, natural hair does involve a little bit of planning and TLC. This is how you should be treating your natural or relaxed hair. If your hair isn't responding well to heat then don't put heat on it. Both types of strands can suffer serious breakage if not well-nourished and properly maintained.
If Your Hair Is Oily You Should Shampoo It Daily 
While the job of a shampoo is to strip hair of unwanted dirt and oils, it's easy to overdo it. Turning to the suds every time your roots get slick is actually counterproductive because the amount of sebum your scalp produces doesn't come close to the amount stripped out by shampoo sulfates. Shampooing too much can lead to brittle hair and itchy scalp—among other things. Instead, take a look at your diet and use organic or natural shampoos such as Glammednaturally Biotin Shampoo. 
Also, consider using jojoba oil . You might not immediately think of oil as the antidote for oily hair, but jojoba oil is great for helping regulate sebum production, she says. While you're at it, check out these shampoos specifically made for oily hair.
The More Shampoo Suds The Better 
While bubbles are always fun, foaming action isn't a sign that your shampoo is working overtime. In fact, bubbles are a by-product of harsh detergents in sulfate shampoos, which can strip hair of necessary oils and nutrients. "Although we've trained ourselves to think that the more bubbles there are, the deeper the cleanse
You Can Reverse Split Ends 
The sad truth is, once the ends of hair have split, there's no way to put them back together. The key to split-end management is to prevent them in the first place and get regular trims to snip them off.
You can prevent split ends by avoiding hot tools as much as possible, getting your hair trimmed every six to eight weeks, and using a brush for wet and dry hair. Here's another pro tip: When brushing your hair, start from the ends, then work your way up the hair shaft, as opposed to brushing from the roots down to the ends.
Hope you've learnt a thing or two in today's blog comment below if you can add to this list :)