Hair Growth Oil
Our Hair Growth Oil is specially formulated with 100% organic essential oils that promote hair growth and make any hair reach its highest quality as it helps any hair to attain fullness and thickness. It promotes thicker, shiny, long, and healthy hair.

Our Hair Growth Oil is specially formulated with 100% organic essential oils that promote hair growth and make any hair reach its highest quality as it helps any hair to attain fullness and thickness. It promotes thicker, shiny, long, and healthy hair.

Made with 100% organic and carrier oils that nourish the hair roots while also strengthening and tightening the hair strands from inside, to promote hair growth and prevent breakage. 
Promotes regrowth and thicker hair after suffering from postpartum alopecia
Promotes growth on bald spots
Helps seal in the hair shaft
Promotes hair growth & thickness
It also can be used as an oil sealant used with any daily moisturizer for the hair
This oil formula stimulates growth especially where there is hair loss or stunted hair growth.
It comes in three different sizes. The 2oz hair oil is the smallest and can last for about 2 - 4 weeks depending on the volume of hair and usage; the other sizes are the 4oz and the 8oz hair oils which last for about 2 months and 3 - 4 months respectively.

100% Vegan

Ethically Sourced

Organic Ingredients

Cruelty Free

Paraben Free

Toxin Free

Sulfate Free

Handmade
Apply daily directly to on scalp and massage for a few minutes for better results. Use daily on affected areas if suffering from hair loss. For thinner hair texture use as a scalp treatment overnight and wash off the next day. Customers who have tried out this product have seen positive results in terms of healthier and longer hair in 2 - 8 weeks. Consistency and patience are key when using this product so we recommend to use it constantly over a period of time for lasting results.
Please do a patch test before use to ensure no reactions to our ingredients.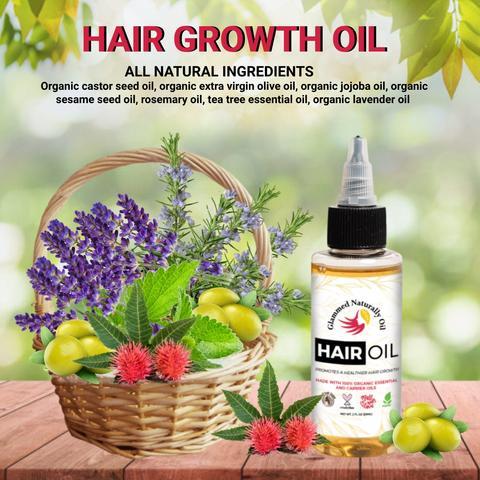 Ingredients
Lavandula Officinalis (Organic Lavendar Oil) 
Rosmarinus Officinalis (Organic Rosemary oil) 
Olea europea (Organic Extra Virgin Olive) Oil
Ricinus communis (Organic Castor) Seed Oil
Simmondsia Chinensis (Organic Jojoba) Oil
Sesamum indicum (Sesame) seed oil
Melaleuca alternifolia (Tea Tree) Essential Oil
Frequently Asked Questions
How much hair oil should I use?

Start small. Begin with 2 drops for the first time, then add more drops each time until you get the desired result. A little goes a long way.




Is it best to use hair oil on wet or dry hair?




It depends on the result you are seeking. Applying oil on wet hair means less shine, but there are other benefits, such as detangling and heat protectant before blow drying. On dry hair, the shine factor is higher and you will get better frizz, UV and pollution protection. For both benefits, apply 3-5 drops to wet hair, and then finish with another 3-5 drops evenly applied to dry hair.

Yes it is as long as they don't have any allergies to any essential oils. We recommend that you do a patch test on skin or scalp first before applying on their entire head. We recommend our kids oil for children between 0-1 years of age.


How often do I use your oils

You can use our hair oil as often as you'd like however we recommend that you use the product at least 4 times a week for best results. Apply the oil and massage your scalp for at least 3 minutes.


Will your hair oil make my hair and scalp oily?

Our hair oil is very lightweight. The plant's oils are natural. If your hair is naturally oily or holds oil, reduce use or wash to remove buildup.


Results may vary. However, most customers see results within two weeks to 2 months. With patience, consistent and long term use you will see a difference in your hair's health. Consistency and patience is key.


Can I mix hair oil with herbs?

Yes we suggest infusing our hair oil with Ayurvedic hair tea rinse herbs for best result (See our hair growth product section for this product)


Can I combine hair oil with other oils?

Yes, combining hair oil with braid or castor oil can boost its benefits.


Does the hair oil protect the hair from the high heat?

No, essential oils may react negatively to heat. We recommend using our organic coconut oil as a heat protectant.


Does this work for natural hair only or can it be used with relaxed and texturized hair too?

Yes, our products work well on relaxed and texturized hair too. We recommend that you do not use our hair oil if chemicals are present. So wash off chemicals before usage.


How many inches/ How much will it grow in a month?

This will vary as hair growth rate is affected by many factors and each individual is different. Our customers usually double their growth rate when using our growth aids as directed. Most of our customers claim that they can see results between 2-6 months.


Is it for all hair types?

Yes, all of our products work for any type of hair.


Our products are all nut-free

Do I need to use any other product with hair oil to help my hair grow better?

All of our products can work independently to give you longer, stronger, healthier hair. We do recommend that you use several products for optimal results. We recommend our Restore Damage Kit for you to get the best hair growth result.