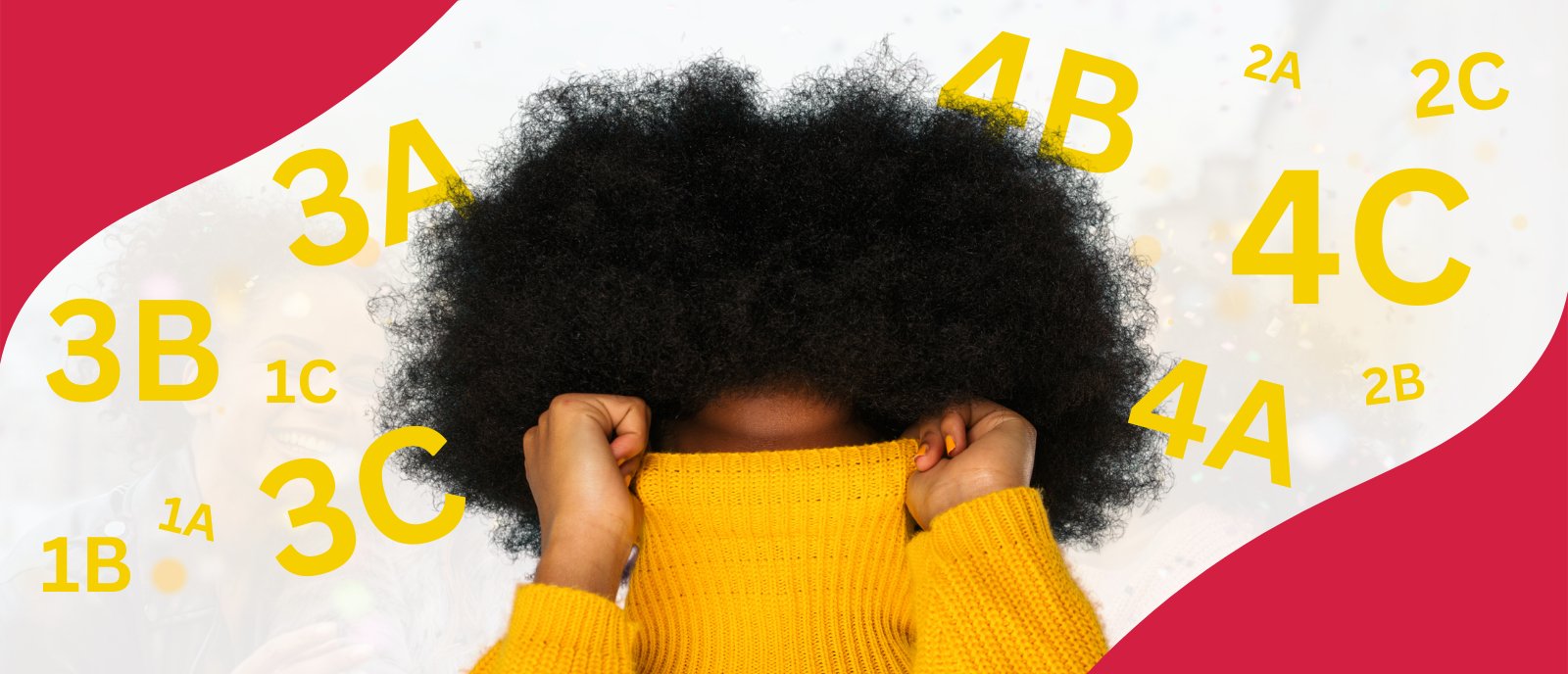 Hair Type Guide: How to identify your hair type correctly
(3A, 4C?)
I'm sure you're probably wondering, "Does my afro and natural hair have a type ?"Yes, it does and if you want to know what type of hair you have here is a guide to find out. This is mostly based on the Andre Walker (Oprah Winfrey's hairstylist) hair typing system that grades hair based on its curl patterns.
Aside from the sense of belonging that the knowledge of your hair type gives you, this also helps you decide what hair products to use and what styling methods work best for you.  
According to Andre Walker's system, he determined hair type is primarily based on the curl size as well as a pattern; from straight to coily hair.
Type 1: Is straight hair that has no curls or curves whatsoever

Type 2: Is wavy hair that doesn't curl much

Type 3: Is hair that has definite curls in an S shape even when it is unstyled

Type 4: Is hair that is tightly coiled (popularly known as "kinky") and returns back to the original shape even after it is stretched out. It shrinks a lot which makes it look shorter than it actually is.

Breaking this down into subcategories, each hair type has its own subcategory which is as follows :

1A: Straight, fine hair that cannot hold a curl

1B: Medium textured straight hair that doesn't hold curls but has more volume

1C: Hair that does not curl too but has more volume to the point of being coarse. It is also the most resistant to curly styling

2A: Wavy hair that resembles letter S, coarse

2B: Frizzy hair with a definite pattern of waves

2C: Frizzy hair with thick waves and coarser than the rest in this category

3A: Curly hair but with loose spiral curls

3B: Curls have more volume and are not as loose as type 3A (ringlets)

3C: Tight curls about the same shape as corkscrew curls

4A: Very tight and thick curls

4B: Curls have a zigzag pattern than resembling the letter Z

4C: Very tight coils that may not have a definite curl pattern so is quite hard to define. The coarsest of all the hair types.
Although the Andre system seems to be the most popular, there is also the less popular one called the L.O.I.S typing system.
The LOIS typing system basically grades hair types according to the letters LOIS:
 L - If your hair bends in an L shape with nearly no curves and at a right angle, then your hair pattern is an "L"

O - If your hair pattern is curly like an O, then this is your category

I - This is your pattern if your hair primarily has no curls and just lays straight on your head

S - This is your hair type if your hair has S-shaped curls or waves with defined patterns
You can also have more than one LOIS pattern on your hair; for example, you can have a combination of O and S which means your hair pattern is OS. 
Most people do not have hair that falls into just one category; it is mostly a combination of two to even three hair types at the same time. Sometimes this is natural, but it also happens when you have permed or chemically treated your hair.
So if you have relaxed your hair (in a bid to make it softer or other reasons) then you will notice that your hair at the roots (which is the original state of your hair) is a bit different from the hair at the tips. And when you say your hair is "due" and you need to get it relaxed again, it simply means that you want to "convert" your hair from its original state to the relaxed one, as a permanent process.
Chemically treated hair may be curly at the roots, wavy in the middle, and then a bit straight at the tips. This is not really advisable as your hair goes through a lot of stress when you relax it and it also makes your hair look uneven.
Chopping off your hair to start afresh, we naturalistas call it the "Big Chop", is a move that can be tasking but is very liberating as it reverses the process by cutting off the damaged parts to let the healthier set grow without using chemical treatments on it again. You might think your hair is softer or better when you chemically treat it but the truth is that your hair is getting damaged and is more prone to breakage and severe hair loss if you aren't careful. What's more, there is also the risk of stunted hair growth; in fact, chemically treated hair has way more cons than pros.
So what are you waiting for? I am here to guide you to make wise decisions about your hair and the first step to getting your hair back on track (and to know your original hair type) is to stop chemical treatments and take away the damaged parts. With GlammedNaturallyOil products, which is a combination of essential and necessary natural ingredients that help boost hair growth and maintenance; you are 100% ready for your natural hair journey. 
Knowing your hair type is a sure way to make all your hair care regimen all the more efficient as you will be able to more easily identify what works for you. Another must-know is your hair levels of porosity, density, texture, and elasticity; which simply describes how your hair absorbs moisture and reacts to heat and this will help you know the exact hair type you have. For example, you can have low porosity, high textured, medium-density 3C hair or high porosity, medium textured, high-density 4C hair. 
So what type of hair do you have? Tell us in the comments.
Btw, I have a 4C type of hair what's yours😉