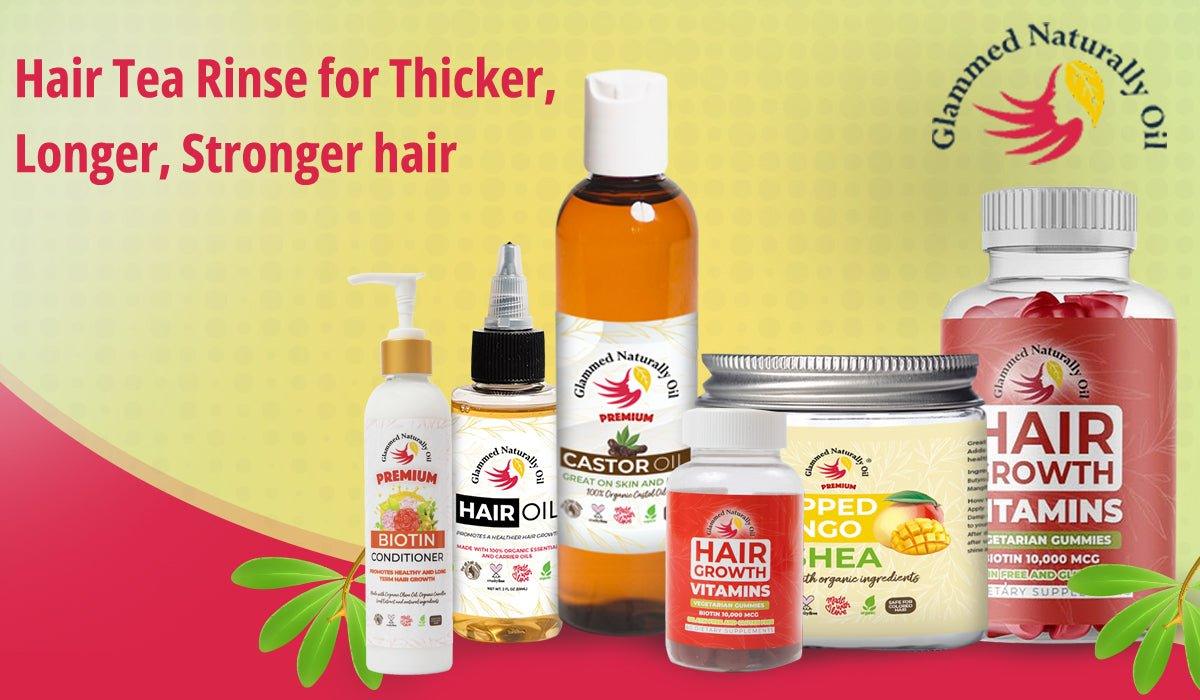 Make Hair Tea Rinse for Thicker, Longer, Stronger Hair by Sitting at home
Tea is proven to be a medicating element for different health issues you may face in regular life. It helps you cough and cold, even energizing your mood and good sleep. But the deal-breaking thing is, it helps you hair growth. The leftover tea leaves after making tea can be a great component of your hair. Tea rinses have been a popular hair remedy throughout the world. With the hands of different hair experts, it was modified and restructured to solve hair problems. While sitting at home, you can make a hair tea rinse for thicker, longer stronger hair. 
The formula of making Hair Tea Rinse for Thicker, Longer, Stronger Hair
Firstly, you need to collect some essential ingredients to make these remedies. Some of the ingredients are so regular to find these in your kitchen within the required amount. The most important ingredient is the tea or tea bags, you can use the used bags to utilize them to the fullest.
First of all, you should put three to five tea bags in two cups of hot water. 
If you are looking to reduce the quantity of the rinse, then reduce a tea bag.
Then keep it at room temperature to let it cool for around 30 minutes. 

After the temperature drops, remove the tea bags from the container of tea rinse. Then you get a homemade, pure, and natural

Hair Tea Rinse for Thicker, Longer, Stronger Hair.

 

You must wash your hair and completely dry it with a towel Just before using the tea rinse. 

Politely apply the rinse on your hair and scalp.

A spray can be useful for you to spread the rinse all over your head.

 

Then you must wrap your hair with plastic wrappers, fabrics, or a towel, at least for 30 minutes. And then rinse your hair with cold water. 
Use of Hair Tea Rinse 
A tea rinse is a kind of old hair growth remedy used by old civilizations. While you have very little time to care about your hair you can use this remedy to regain your hair growth. If you are tired of using chemical appliances on your hair then this herbal and completely natural remedy is exactly the thing for you. Primarily, you can use a hair tea rinse for thicker, longer, stronger hair. It controls your dry scalps and nourishes your scalp. It is very useful to overcome your hair fall problems. 
Benefits of the Hair Tea Rinse 
Add Moisture in Your Hair
Rich vitamin values like vitamin B5 give oily essence to your hair. Which promotes moisture content in your hair prevents it from regular falling. A tea rinse also helps you with eliminating itchy wet scalp which is chronic diseases you could face seasonally. 
You may have a very slow growth rate of hair. And if this is creating new problems for you then you can use hair tea Rinse for thicker, longer, stronger hair. The nutritional value of it helps you with the rapid growth of hair and get rid of hair growth problems.
Gives Shine to Your Hair
Daily stress, exposure to environmental pollution you can gulp off the shine of your hair. But a hair rinse made from tea could help you to restore the natural shine of your hair, making it lustrous. 
Enhance your hair color
By considering tea as a kind of Herbs for hair growth, it is proven to retain the color of your hair, adding a healthy shine to your hair shade.  
Prevents Shedding  
If you face shedding in your daily life, then you should try a tea rinse in your home. The natural remedy has many nutritional elements which are very useful for your hair growth. Regular tea is the perfect element to make a rinse to combat your hair shedding. It will also nourish and strengthen your delicate strands.    
Make
Hair Tea Rinse for Thicker, Longer, Stronger Hair
just sitting at home with these home ingredients. And get the benefits of long, thick, dense hair. To know more about
almond oil for dry hair
,
hair gel for men
,
castor oil on hairline
,
Fast hair growth oil
,
Products for hair loss
,
Ayurvedic hair growth oil
,
best hair oil for men
,
wild growth oil
,
follow our website.