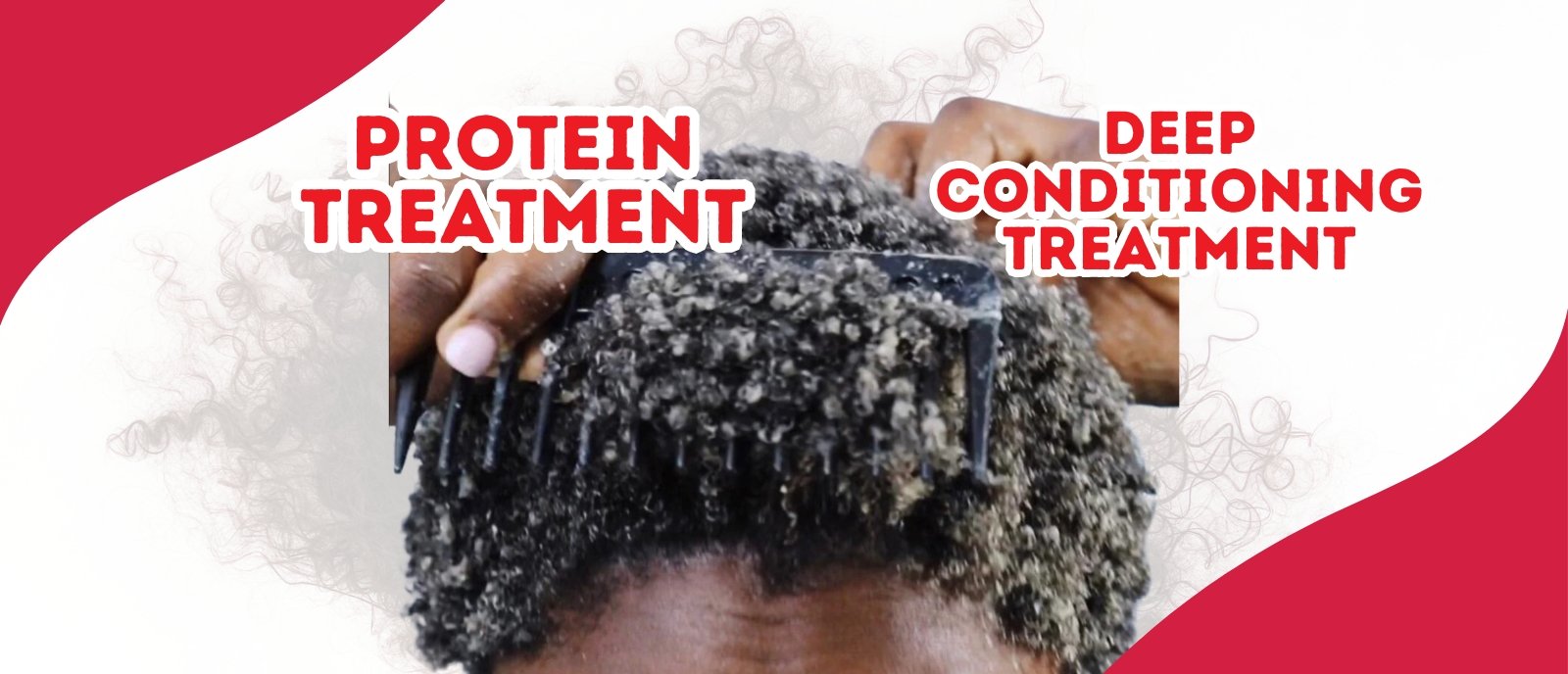 Differences between Protein Treatment and Deep Conditioning Treatment
Your Hair is just like your body, they need proper care to stay healthy. Understanding the two treatments will help you to know what is best for your hair.

What is Protein Treatment?
Protein is one major element of our hair. This treatment is responsible for strengthening, restoring those building blocks and boost nutrients to reconstruct your hair. Lack of protein can cause hair loss and too much protein in our hair is also not good. Excess protein can cause brittleness and increase the ability to break. Protein treatment helps strengthen the base of your hair especially those that will undergo coloring, lightening or texturizing their hair with chemicals.

When to use Protein Treatment?
It is advisable to use once or twice a month. You can make your own protein treatment using things you can find in your kitchen or if you don't feel DIY protein treatment you can buy in your favorite hair care store. High Porosity, Hair lost the elasticity, stringy or sticky hair, colored hair are some signs that your hair needs a Protein Treatment.

What is Deep Conditioning Treatment?
It is a process of Restoring your hair with the help of moisturizing or protein-based conditioner. Unlike the typical conditioner that can be done in the shower after your favorite shampoo, deep conditioning treatment applied between 10-30minutes. It also moisturizes your scalp to lessen itching and flaking. It ensures the hair strand to be strong and healthy. Ingredients such as coconut oil, olive oil, or avocado are best when you are choosing deep conditioner for your hair.


When to use Deep Conditioning Treatment?
You can do it weekly but it is recommended two to three times a week If your hair is damaged or dry. You can use it after your regular shampoo and conditioner. It can be done after pre-pooing or co-washing your hair, apply it from root to tip. Deep Conditioner treatment can be a DIY or you can buy in your favorite hair care store.


GlammedNaturallyOil is here for you to give you a 100% organic product to help your hair achieve healthier growth. Here are some videos from our founder Jummie Ogunyemi organic product recipe for deep and protein treatment.
Please click the link below:
https://www.youtube.com/watch?v=p5g2dbvN8Sw
https://www.youtube.com/watch?v=Lm3wICOknKs
Youtube Channel:
Jummie Grow
https://www.youtube.com/channel/UCJA6LeCT5x9UnmsymSZYXlA