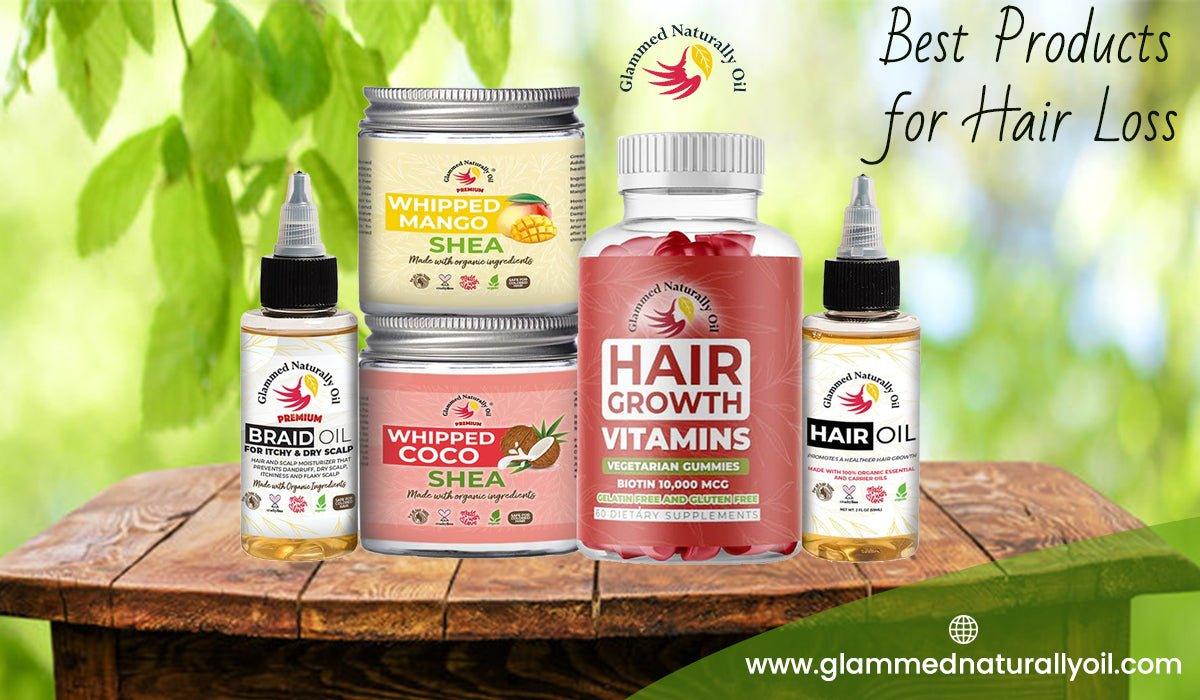 6 Natural Oils That Make Glammed Products Best Products For Hair Loss
When it comes to hair fall issues, Glammed hair care essentials are some of the best organic products that stop hair fall and promote hair growth. But do you know why they are so much more potent than any regular hair car issues? Well, we process them with the finest natural ingredients that do not just help you with hair growth but also stop hair fall issues eternally. Now if you are eager to know 6 natural oils that make Glammed products the best products for hair loss, follow this blog till the end.
6 Natural Oils Making Glammed Products Best Products For Hair Loss
Almond Oil
Hair moisturization is an important factor for both hair loss and hair growth. The more hydrated your scalp would get, the more thick and long your hair would grow. And almond oil is one such natural essence that provides natural hydration and boosts your hair growth. This natural and organic oil is rich in omega, vitamin E, and antioxidants and helps your scalp and hair tissue to lock moisture for very long days. 
Jojoba Oil
One of the main ingredients that make our Glammed products the best product for hair loss is Jojoba oil. This powerful hair and scalp remedy help your skin with uncountable benefits stopping hair fall and promoting hair growth. There is barely anything useful in jojoba oil. With multiple vitamins and minerals like iron, calcium, and manganese it tackles every hair issue and boosts your hair health. Besides, it also makes your hair shiny and luminous.
Coconut Oil
After almonds, another amazing hydrating agent we use in our several Glammed products is Coconut oil. This natural oil essential is so rich in vitamins and minerals, that many cultures around the globe also use them as a primary cooking oil. What's more interesting, coconut oil also works on heat and UV damage issues, which leads to bald spots and shedding. A gentle massage with this oil can treat your hair and can also relieve your stress. 
Tea Tree Oil
When it comes to natural hair growth and hair repair, Tea tree oil is the first option you must choose. Tea tree oil initially works on scalp nourishment making it phenomenal and one of the best product for hair loss. According to several studies, this oil contains many nutrients that can nourish your hair making each hair strand healthy. Besides tea tree oil is rich in fatty acids, and minerals making it an important ingredient for Glammed.
Rosemary Oil
In the natural hair care remedy, there isn't anything as good as rosemary oil. This vitamin-rich oil is the shining star of Glammed products, as it mainly focuses on retrieving hair growth. This natural essential possess antioxidants and Vitamins A, Vitamin D, and Vitamin E that revive scalp cells and hair tissues boosting hair growth. Moreover, the anti-inflammatory qualities in Rosemary oil repair cuts and infections and help to grow long and strong hair. 
Avocado Oil
When you are suffering from hair thinning, split ends, and other issues Avocado oil is the only product that can help you out. We use this oil essential in many glammed products making them the best product for hair loss. This oil is actually a great source of amino acids and vitamins B and E, resulting in hair that has less frizz and more shine.
You might be satisfied by using Glammed hair care products, but do you know the real heroes behind them? These 6 denoted natural ingredients. So visit our website to buy hair loss products, Ayurvedic herbs for hair growth, Ayurvedic hair growth oil, grow your edges fast, and grow your edges back.
FAQs
Why is organic oil the best for hair growth?
Organic hair oils like lavender, rosemary, and jojoba contain different vital nutrients like iron, zinc, calcium, etc along with Vitamin E, Vitamin D, Vitamin, and antioxidants that repair hair issues promoting hair growth.
Which oil is the best oil for hair?
Whether you abandon chemicals or look to experiment with new products, try natural oils such as coconut, argan, jojoba, almond, olive, and grapeseed. These are some of the best oils for hair health and can be used directly on the skin and hair.