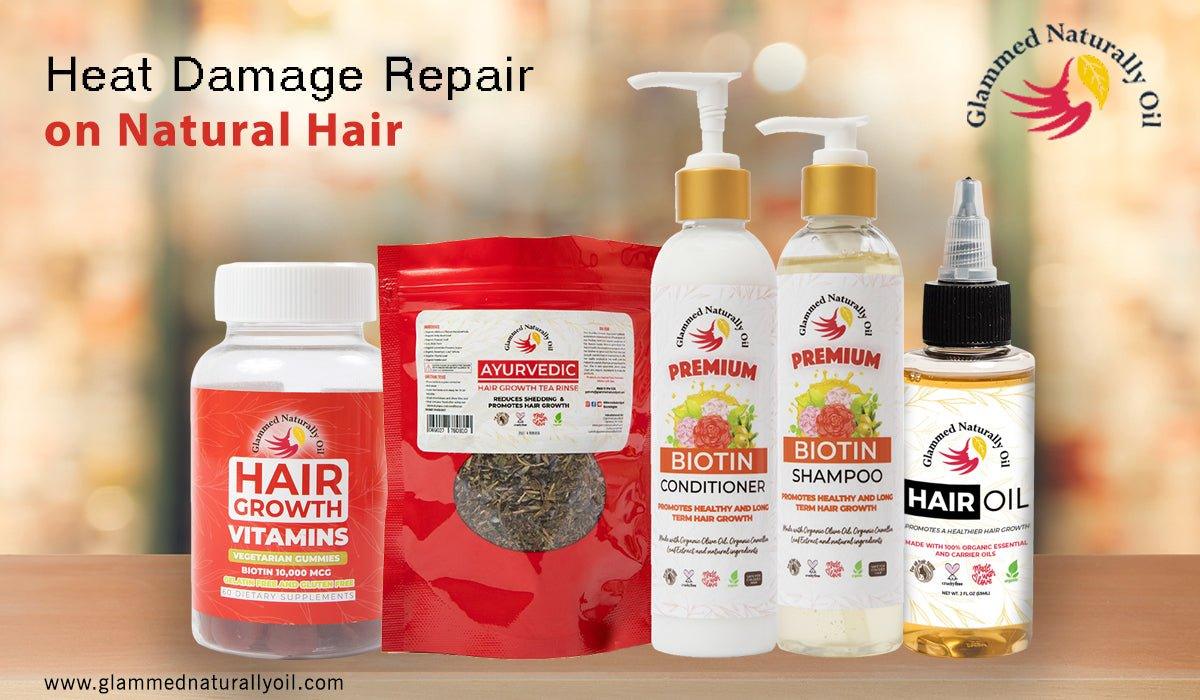 Eight Organic Hair Oils To Use For Heat Damage Repair On Natural Hair
So are you still using hair styling tools that apply heat to your hair? Well, if yes then it is the main reason for your dry and rough hair. Heat-damaged hair doesn't fit in any hairstyle. Moreover, if you continue using heat hair styling tools you are thoroughly heading towards premature baldness. However, you must not worry because here in this blog we are going to talk about 8 organic and ayurvedic hair oils which would be the best remedy for heat damage repair on natural hair. So follow the blog till the end.
8 Organic And Ayurvedic Hair Oils To Consider When You Seek Heat Damage Repair On Natural Hair
Coconut Oil
When the matter is treating heat-damaged hair, coconut oil is the best solution. This oil work amazingly for both scalp and hair. Moreover, It contains fatty acids which retain hair moisture in your scalp and revive your damaged hair in no time.
Coconut oil is also rich in vitamins and minerals that are very necessary for your hair health. Additionally, this oil stays longer period on your scalp and hair, which guarantees extra nourishment in your hair.
Almond Oil
You might like this dry fruit on your dessert, but do you know this is also useful as a hair oil? When you start witnessing hair thinning due to the overuse of heating tools on your hair, almond oil is the only thing that is going to help you out. 
Almond oil comes from the kernels inside almonds which are rich in Vitamin E, fatty acids, proteins and antioxidants, and certain minerals that are good for your scalp health. And these specialties make it the best treatment for heat damage repair on natural hair.
Olive Oil
Olive oil is another extraordinary oil to repair damaged and dry hair, especially when it is heat-damaged. The thing that makes this oil extraordinary is its protective and moisturizing properties which aren't just good for your scalp but are also very useful for your hair follicle.
Even, this oil is also eligible to fight dry scalp and dandruff with its exfoliating and dandruff-fighting properties. And when you use this on regular basis, one of the smoothest hair you can ever have.
Avocado Oil
When you try to style your hair with heat, your hair becomes dull, dry, or frizzy. However, in that situation, Avocado oil emerges as a rescue for your hair. This oil for heat damage repair on natural hair is rich in fatty acids and minerals, making it ideal for strengthening your damaged hair roots.
The antioxidants and Vitamin E in the oil make it ideal for taming the frizz of your hair and reviving the natural shine. In addition, this oil also proved to retain moisture and shine in your hair.
Grapeseed Oil
The oil extracted from grape seed contains emollients, antioxidants, and nutrients that are essential for scalp cell generation. Grapeseed oil possesses the same moisturizing qualities that repair heat-damaged hair.
Even this oil is also excellent in treating brittle and weak hair. On top of that, this oil is very effective against and helps you to regrow hair.
Lavender Oil
One of the most effective hair care oil is considered to be Lavender oil. According to some studies, this oil for heat damage repair on natural hair engages nourishment to your hair, encouraging hair growth.
It increases the number of hair follicles on the scalp, resulting in fuller and thicker, and longer hair. Other than hair repair and hair growth this oil is also proven to relieve stress, which is one of the main reasons for chronic hair loss.
If you have made a blunder by overusing your hairstyling tool that involves heat you must immediately consider using natural remedies to stop baldness. These 7 natural oils are the best for heat damage repair on natural hair. Well, we offer our handmade organic hair oils to Grow Edges In 2 Weeks. Also, to
Reverse Heat Damage to Natural Hair
buy our products like
Coco Shea Coconut Oil
and
Hair loss Regrowth Kit
from our online store. To read more blogs on
Homemade Hair Mask For Hair Growth
stay tuned to our official website.