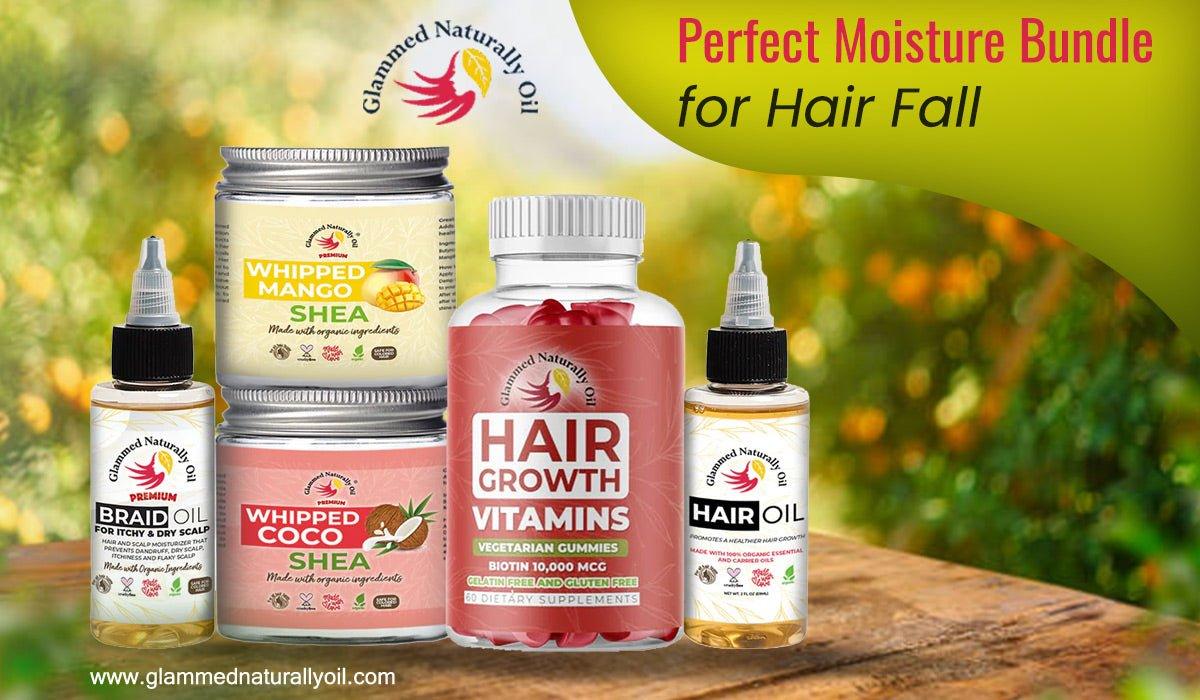 Six Reasons To Buy Perfect Moisture Bundle For Hair Fall
While frizz and brittles are not enough to annoy you, dry and rough hair also incorporates scalp problems that can make you dull from both looks and personality. In the meantime, you might choose chemicalized hair care products as your friend, but they are not the ones to keep your pinky promise. But we have something that won't disappoint you, and even boost your hair growth. A moisture bundle kit with mango and coconut butter can surely bring hydration to your hair. Continuing their story, let's know 6 reasons to buy a perfect moisture bundle for hair fall.
6 Explanations To Buy Perfect Moisture Bundle For Hair Fall
Moisturize Your Hair
While you are suffering from hair dryness and roughness, a perfect moisture bundle for hair fall heroically helps you with moisture and keeps your hair hydrated. Coconut is no wonder an amazing hydrating product, but mango surprisingly can provide its qualities to your hair. 
Butter extract from these fruits can retain moisture in your hair strands and boost hair growth. Not to mention essential fatty acids such as oleic acid, stearic acid, palmitic acid, and linoleic acid which all help to hydrate and protect the hair. 
Repair Hair damage
Hair damage is one of the common hair problems faced by most people these days. Though hair gets damaged in two ways, firstly by using hair styling tools and then due to direct sun heat. If you don't know, coconut butter contains SPF that is sufficient to protect the hair from damage caused due to heat from hair styling products. Moreover, Mango butter, being a natural sunscreen, can deflect harmful UVB rays and prevent hair dryness. Moisture bundles undoubtedly add a fresh look along with hair growth.
Nourishment For Hair
No matter what nourishment is compulsory for your hair to keep it healthy. Without proper flow of nourishment in your hair and scalp not only make your hair dry but also creates a risk of hair fall.
 Fortunately, you have the option to buy a perfect moisture bundle for hair fall from us, which can surely nourish your hair, and help you with its worst state. While the coconut is rich in minerals like iron, zinc manganese, etc mango complies the nourishment chain with vitamins and calcium.
Promotes Hair Growth
When your hair is enriched with nourishment, it's no wonder you are going to see hair growth results. By using this kit available on our online store you won't just get a hair growth boost but also the assurance of long and strong hair you seek to have.
Both mango and coconut contain different types of fatty acid content that condition your hair. Along with essential butter products from these two fruits is an expert to improve both scalp and hair health. And eventually, promote hair growth.
Repairs Split Ends
There is hardly anything as annoying as split ends in the hair. Split ends not just makes your looks frizzy but also a clear sign of low nourishment and hydration in your hair. However, with a perfect moisture bundle for hair fall, you can repair split ends and enjoy smooth hair. 
The moisturizing and regenerative quality of coconut and mango helps your hair to fight split ends. Moreover, being rich in vitamins A and E, whipped mango and coconut butter can mend split ends.
Works As A Conditioner
Your hair and scalp could be dry as a desert, but products available in our moisture bundle are not anything less than a natural conditioner. The high levels of antioxidants in organic mango butter and coconut butter can condition your hair to make it hydrated. 
Not to mention The vitamins A and E present in this coconut butter are ideal to hydrate hair and scalp. Even this product is highly effective in locking in moisture content inside your hair scalp for very long days.
If you want to know how mango and coconut butter can benefit you, here are 6 reasons that explain why you need to use a perfect moisture bundle for hair fall available in our store. So if you want to buy this kit along with Herbs for hair growth, the best hair oil for men, wild growth oil, grow longer hair, hair loss products, and natural hair care products for American hair contact us through our website.