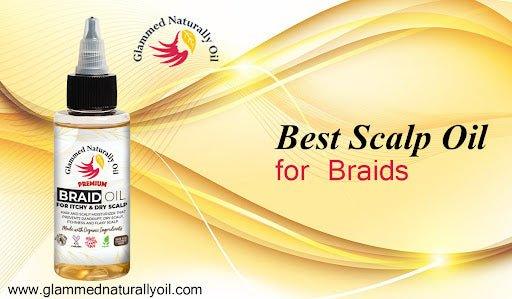 List Of The Best Scalp Oil For Braids
Styling your hair in braids is as gorgeous as difficult to maintain. Usually, braided hair results in an itchy scalp, and a frizzy look overall, if not maintained correctly. But that should not make you skip this jaw-dropping hairstyle. And thus, today, we will discuss the 5 Best scalp oil for braids that you can use. The oils will not only nourish your scalp and hair health but also keep the hairstyle intact. So, let's delve into it!
The 5 Best scalp oil for braids you can use
Jojoba oil 
When you keep a braid hairstyle, your hair strands feel a pulling pressure, which leads to severe hair fall. But, you cannot let that happen, right? Massaging your scalp and hair with organic jojoba oil is the best solution to maintain your hairstyle along with taking care of the hair fall problem. Packed with all the plant-based hair nutrients, Vitamin B & E, this best scalp oil for braids adds a shine to your hair, strengthens your hair roots, and reduces hair fall in less than  3 months of regular use.
Peppermint oil 
The synthetic hair used to support the braided hairstyle, build-up of dirt, dust, etc, cause intolerable itchiness. And imagine dealing with such a thing daily! But you can put a stop to the itchiness and grow thick hair with organic peppermint oil!
Since it's super light in weight, the organic oil won't clog the pores, which is great for your braids. Secondly, the oil's anti-bacterial and anti-microbial properties fight off the itchiness and dandruff, while comforting your scalp with a cooling sensation.
Also, peppermint oil helps in balancing the ph-level on your scalp, which further controls the oil production and keeps away the grease.
Tea-tree oil 
Your scalp needs to stay hydrated and well-nourished to keep your braids undamaged. And using tea tree oil is the finest solution! It hydrates your scalp, moisturizes your braids, and keeps dryness away! In fact, if you are unable to find peppermint oil, you can use tea tree oil for treating the itchiness as well.   
Olive oil
Now, this DIY hair tip is gonna be a game-changer for every lady with braided hair. Spraying olive oil and water solution in your braids and scalps keeps your hair hydrated, frizz-free, manageable, and shiny. The water in the spray solution keeps away the grease, while the oil keeps frizz away. It's easy to make, easy to use, and the result is simply awesome!
Castor oil 
The goal is to keep your braid extension intact while moisturizing your hair and treating dandruff, and dry and flaky scalp. And for this, overnight deep conditioning treatment can work like magic!
Castor oil considered the best scalp oil for braids is the most suitable pick for the deep conditioning treatment. Before going to bed at night, apply a generous amount of organic castor oil to your scalp, let your scalp absorb, then cover it using a plastic cap or towel. And the next day wash it off with cool water.
 This overnight castor oil treatment deeply conditions your hair and scalp and at the same time eliminate itchiness, and flaky skin from your scalp.
Applying hair oils is necessary when you are wearing a braid extension
You would definitely want your braid extension to last forever, isn't it? While you cannot keep it forever, at least you can take good care of your hairstyle to ensure it stays undamaged for a prolonged time. And the best scalp oil for braids which we have discussed earlier can help you in this case.
If you are not really a DIY person, and can hardly manage any time to make separate hair sprays or homemade hair products for your braid extensions, our braid oil can be your go-to product! It has all the goodness of organic peppermint oil, tea tree oil, olive oil, castor oil, and jojoba oil. This all-in-one organic oil, reduces dandruff, dry scalp, and itchiness while retaining your braid extension.
Apart from the
best scalp oil for braids
, at our online hair care store,
If you are experiencing traction alopecia or hair loss you can get the best
Bald spot treatment
,
Kids Hair Care Online
,
itchy scalp winter remedy
,
Fast hair growth oil
,
wild growth oil
,
Herbs for hair growth
,
and organic
products for hair loss
.