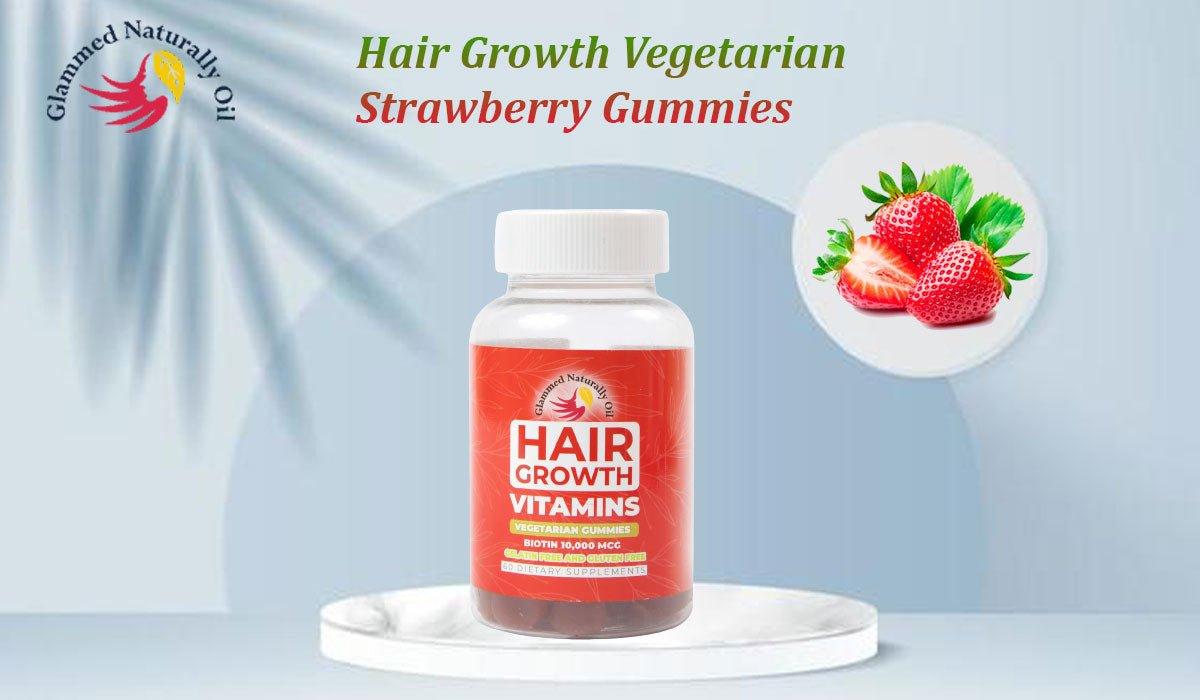 Hair Growth Vegetarian Strawberry Gummies: Uses, Benefits, and More
Do you end up with a sad pouty face every time you try to grow long hair? Things are not going to be the same as before! Glammed Naturally Oil presents you with the best natural trick to grow long and strong hair, repair damaged hair, and reduce hair fall, that is both fun and savory. With a daily intake of 2 Hair Growth Vegetarian Strawberry Gummies, you can enjoy beautiful hair just like the picture-perfect models! Read ahead to discover all the advantages that these vegan delicious gummies offer your hair.
5 Ways Our Hair Growth Vegetarian Strawberry Gummies help you
If you are one of those who barely like to spend time trying out different DIY hair hacks, biotin gummies are your go-to product for healthy and lustrous hair.  Here are the 5 topmost benefits that those delicious gummies bring with them:
Encourage hair growth
After all these discussions, this should not be new to you that Hair Growth Vegetarian Strawberry Gummies encourage hair growth. But don't you want to know how?
With a poor diet, hair care routine, and lack of nutrients, your scalp tends to lose its natural moisture. And it leads to dryness and inflammation, which in turn, slows down the growth of your hair. 
These hair growth gummies are packed with biotin, and hair-friendly vitamins like Vitamin A, B5, B9, etc. With daily consumption, your scalp remains healthy, resulting in fast hair growth oil.
Control hair fall
If you shed more than 150 to 200 hair strands per day, it's not a good sign.  Excessive hair fall can lead to hair thinning and premature baldness, which you would definitely not like to experience, right? So, along with hair growth, you also need to take care of the hair fall issue.
And again the Hair Growth Vegetarian Strawberry Gummies are going to play the role of your savior! As mentioned earlier, these gummies feed your scalp and hair all the nutrients they require. And as a result, your hair follicles and hair roots become strong, healthy, and damage-free, gradually reducing the hair fall issue.
 Treats dry, frizzy, and damaged hair
Women and heat hair styling tools are two inseparable entities! But do you know how much damage heat styling does? It makes your hair rough, frizzy, tangled, and unmanageable. And split ends are an added downside with it!
However, days of worrying about this are gone. The hair growth gummies improve blood circulation on your scalp, and nourishes your scalp and hair, keeping the dryness away.
After a month or two, you can see the visible difference, a softness, smoothness, and a healthy shine. And it also retains the natural color of your hair, improving the hair texture.
Reduce hair breakage
When your hair roots are strong, hair strands are thick, and with no tangles or knots, it will automatically reduce the problem of hair breakage. And the result lasts forever since you are healing internally. And to your surprise, a single hair gummy can give you equal nutrition to several green veggies and fruits.
Beautiful skin and nails as an added benefit  
What can be more pleasing than having good hair days, glowing skin, and shiny nails? These three things are like a dream come true for every woman! However most women complain about dull skin, hair thinning, and soft and breakable nails.
But now with the biotin gummies, you can get all these three things together! Yes, these gummies do not only work on repairing your damaged hair and making it thick and beautiful, but they increase your skin radiance too! Moreover, these gummies make your nails strong and shiny.
With each serving of these Hair Growth Vegetarian Strawberry Gummies, your body absorbs all the healthy nutrients, vitamins, biotin, and black carrot. This cleanses your immune system, improves blood circulation, and results in radiant skin and strong nails.   
The best part is that our
Hair Growth Vegetarian Strawberry Gummies
are 100% vegan and animal cruelty-free! You can easily buy it from our online store. Also, check out our other organic hair care products, including, ayurvedic
products for hair loss
, and
hair fall solution oil
to
grow your edges fast
.