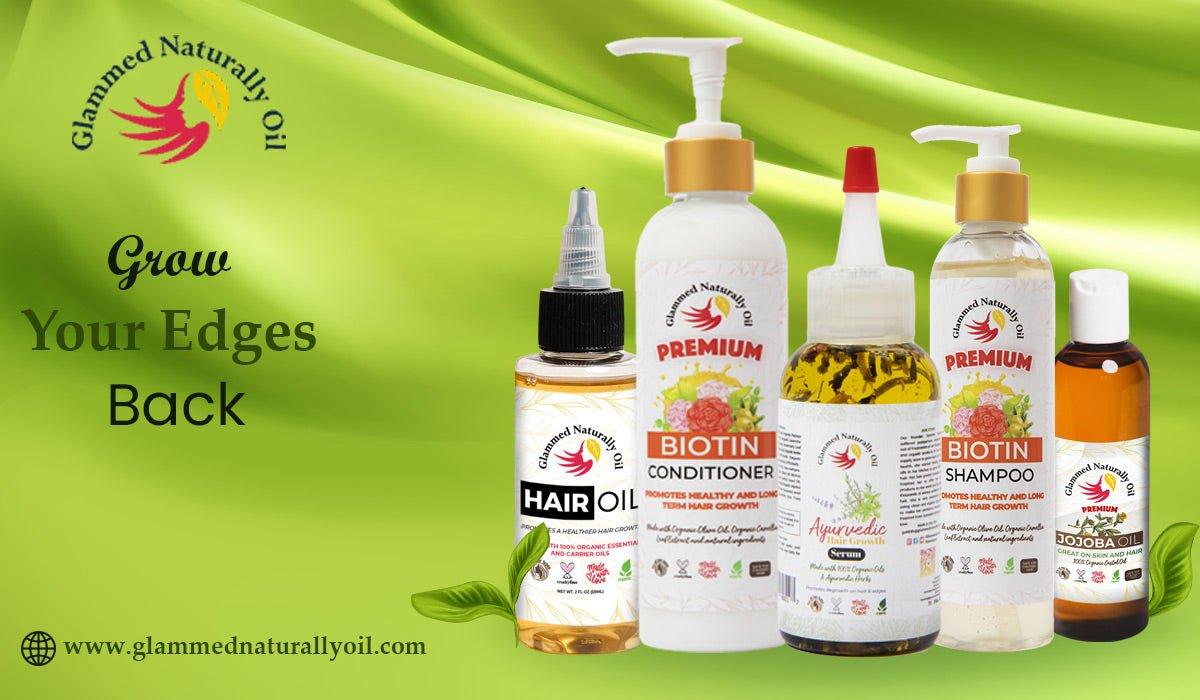 Our Products Can Help Grow Your Edges Back: Here's How
Almost 85% of the world's population is suffering from alopecia or hair loss. Some people even have severe hair loss. The hair starts falling from the edges first. But before things go out of hand, you can grow your edges back and stop hair falling by using the right products, our products. We have natural Ayurveda asserted ingredients which does all the work. In this blog, we will tell you about every hair growth-promoting ingredient and how they work, so make sure to read it carefully.
Natural elements that help your edges grow back
Castor oil
Castor oil is frequently lauded as a natural hair growth cure. Castor oil is an age-old therapy that has long been used in traditional medicine. It is supposed to nourish the scalp, relieve dandruff, and leave your hair silky, strong, and lustrous hence helping you to grow your edges back faster.
 Castor oil, derived from the castor bean, is high in ricinoleic acid, a kind of fatty acid believed to combat inflammation. Initially and till now It is believed that when applied to the scalp, it promotes healthy hair development and prevents hair loss.
 Though there is not much scientific evidence the experts believe that Individual elements in castor oil, such as vitamin E (tocopheryl acetate), encourage hair development by increasing blood flow to the scalp. This explains why vitamin E is so prevalent in our hair loss products.
Coconut oil
Every hair expert can swear by this product. That is why we also couldn't help ourselves, but include this in our ingredient list. Coconut oil is similar to natural hair proteins and has the potential to penetrate the hair shaft in a unique way (the part of the hair that shows above the scalp). Coconut oil can lessen the quantity of water absorbed into your hair, by penetrating into the scalp. This helps to decrease the amount of damage done to your hair on a daily basis.
 Furthermore, one of our research discovered that coconut oil was the only oil capable of lowering protein loss. When participants used the oil as a pre-wash and post-wash grooming product, this was true for both undamaged and damaged hair. All this helps to grow your edges back.
Tea tree essential oil
Tea tree oil has potent antibacterial, antimicrobial, and cleaning effects. When used topically, it can aid in the decay of hair follicles and the stimulation of hair growth. Because tea tree oils exist in a variety of concentrations, it's critical to follow the manufacturer's instructions. Some are very concentrated essential oils, while others are creams or oils.
Use 10 drops of tea tree essential oil in our Organic hair growth shampoo or HAIR growth Moisturizing conditioner on a regular basis. Alternatively, combine 3 drops with 2 tablespoons of carrier oil and leave it on for 15 minutes before washing. And voila! You'll be able to grow your edges back in just a few days.
Lavender essential oil
Lavender oil has the ability to stimulate hair growth. Knowing that lavender oil contains qualities that can stimulate cell development and alleviate stress, researchers on one study discovered that this oil was able to stimulate quicker hair growth in mice. It also has antimicrobial and antibacterial properties, which can improve scalp health.
We found that if you mix several drops of lavender oil into 3 tablespoons of carrier oil, like olive oil or melted coconut oil, apply it directly to your scalp and leave it in for at least 10 minutes before washing it out and shampooing as you normally would, it gives you amazing result. You may also use our Wild Growth Oil as it already has this lavender oil in it.
Jojoba oil
We and you both know the miracles that almonds can do with our brains and body. But now the question is: "will it actually be able to grow your edges back?" Our answer is yes. The reason is Jojoba oil includes a high concentration of vitamin E, which is a natural antioxidant. When antioxidants counteract environmental stress in your hair, it appears younger and healthier.
Hopefully, now you are assured that natural products always help you to grow your edges back faster than any other chemical product. It also has no side effects! What more do you want? On our website, we also have hair loss products, castor oil on hairline, almond oil for dry hair, Natural organic coconut oil to grow your edges fast. We are waiting for you to come.