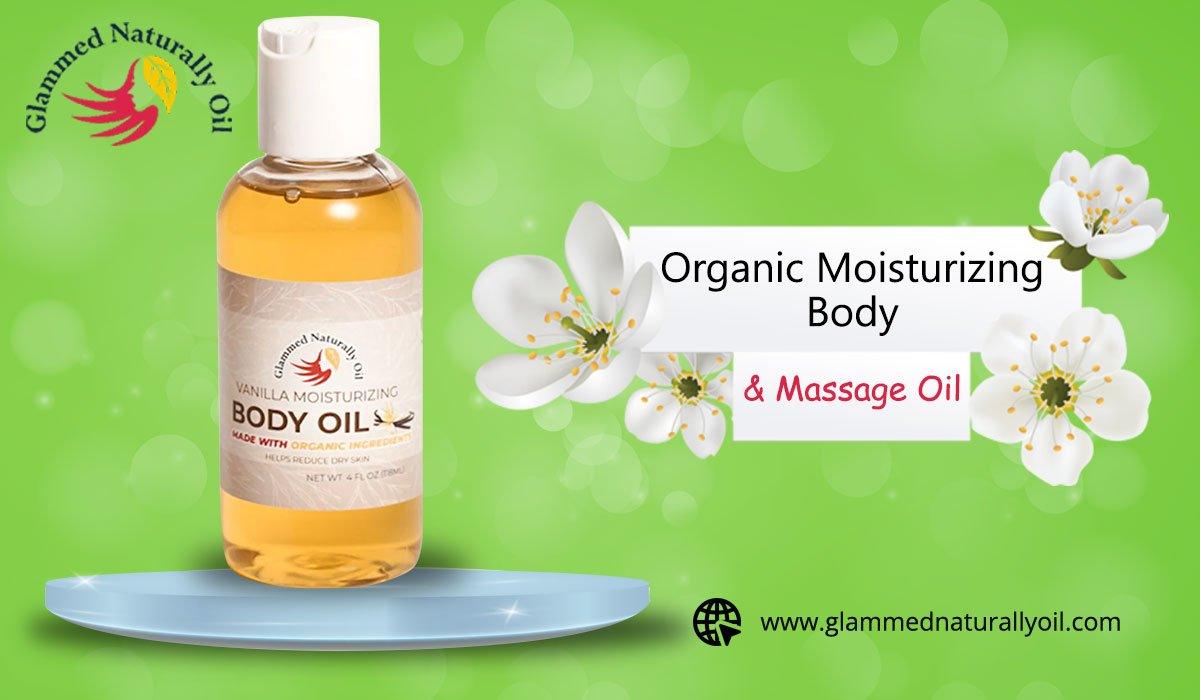 Improve Your Hair Growth and Skin With Organic Moisturizing Body & Massage Oil
Why is organic oil the best choice for skin? In fact, organic oil is better than lotion. Whatever the season it is, it's really struggling to keep your skin healthy and moisturized. Most people choose various types of body lotion and those make them disappointed. 
But the simple fact is organic oil absorbs quickly and deeply into your skin and keeps your body moisturized all day. Organic oils are enriched with natural ingredients that make your skin soft and silky. Also, it contains vitamins and minerals as well as proteins that help reduce rashes on the skin. 
The Organic Moisturizing Body & Massage Oil boosts your skin glow and makes you look younger than your real age. Let's have a look at the benefits of using organic oil for skin and hair growth. 
Get Back the Charisma of Sweet Sixteen Age
Who doesn't want to lock the charisma of a sweet sixteen age (especially women)? To get back to that golden period, women do many chemical experiments with their skins, some even go under the knife. But after doing all of these treatments 99% of women are not satisfied at all. 
On the other hand, some using Organic Moisturizing Body & Massage Oil notice so many positive effects, like reducing the effect of aging. Regular massage improves skin quality and glow. Organic oil protects small pores, reduces wrinkles. You can use organic oil for skin massage that improves your blood circulation
Quick Heal to Damaged Skin 
Have you ever used Natural Organic Coconut Oil? It is one of the best organic and traditional oils that are thick and sticky in nature but your skin absorbs such oil quickly. You can use such oil to massage your body that hydrates and smoothes your skin. 
Improves Your Hair Growth and Quality
Organic oil doesn't only improve your skin, it works amazingly on your hair. It stimulates your hair follicles and improves growth. Handmade Hair Growth Oil nourishes your hair and combats dry scalp and dandruff, adding shine. Organic oils are highly enriched with vitamin A and E, antioxidants. All of these are essential nutrients that keep your hair strong and healthy. Using this type of oil prevents hair issues like dry and frizzy hair. 
Protect Hair from Damage
Organic oils like coco shea coconut oil protect hair from all kinds of damage. It helps you to get rid of the dry and itchy scalp by moisturizing your scalp using this oil. Also, it removes dandruff and strengthens your hair. Organic oils are a great supplement to protect your hair loss. It not only resolves hair issues, but it also improves the scalp condition. Organic oil also stimulates the production of keratin which is highly important for new hair growth. 
Moisturize Your Skin Naturally
Using organic oil like Organic Moisturizing Body & Massage Oil provides your skin with deep nourishment, and long-lasting moisture. It also keeps your skin soft and supple. This type of organic oil not only heals your body but also provides you with healthy and beautiful skin as well. 
The best time to apply this massage oil is right after the shower or bath. Applying directly to the skin helps to get a replenished and silky smooth skin. 
A Great Source To Gain Nutrients
Natural oils like Organic Moisturizing Body & Massage Oil are highly rich in fatty acids and palmitic acids. It contains anti-inflammatory and anti-bacterial properties that give great relief from various types of skin issues. This type of natural organic oil is enriched with various nutrients like copper, calcium, magnesium, vitamin E, and B-complex. 
Applicable for Both Skin and Hair Glow and Growth
Coco shea coconut body butter is good for skin as well as hair growth. It is a 100% organic blend of shea butter and coconut oil. These ingredients are highly recommended to moisturize your skin and strengthen your hair.
Bottom Line
Organic Moisturizing Body & Massage Oil has numerous benefits. A regular massage, will rejuvenate your skin and keep it fresh every day. This type of handmade oil is really cool and highly recommended for your hair. It promotes the growth of your hair and protects it from every kind of damage. Contact us for more information. We will be happy to help you.