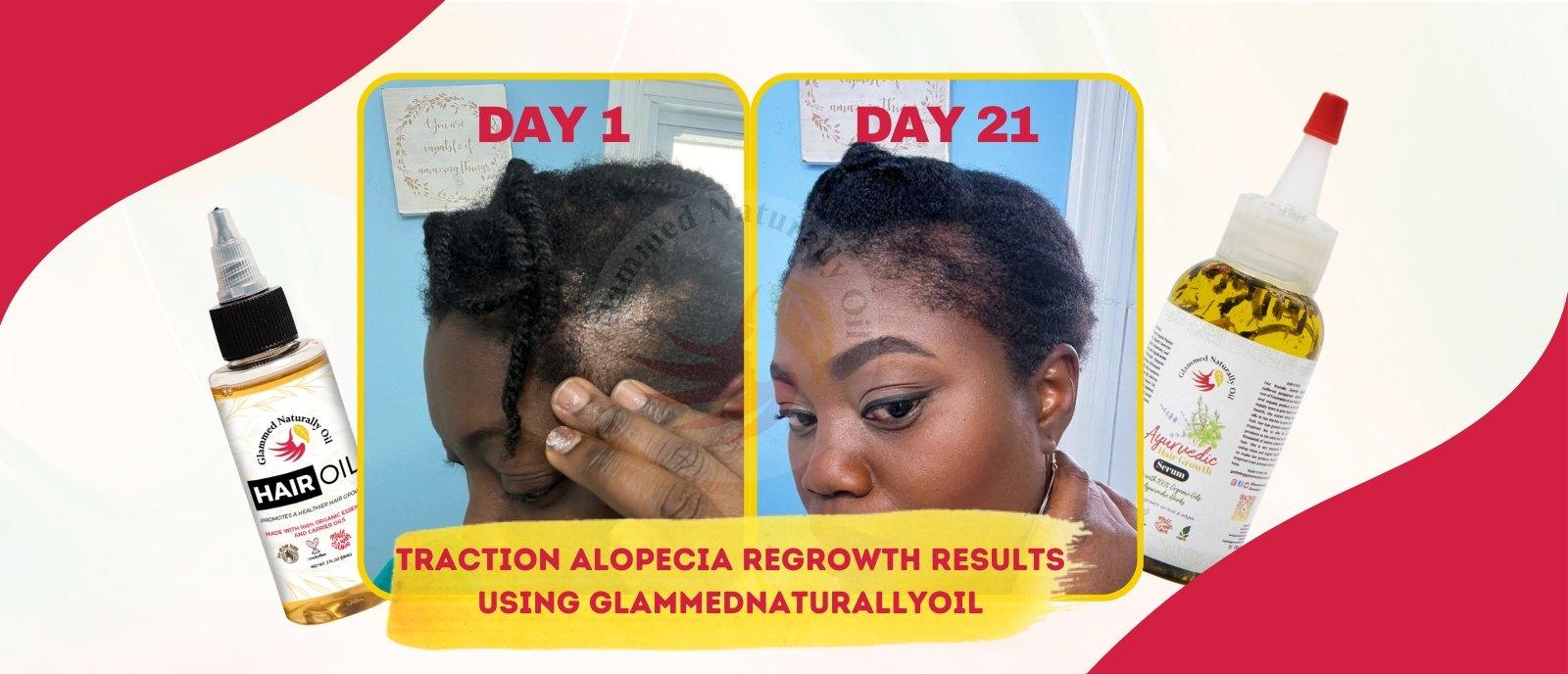 Traction alopecia before and after results
Traction Alopecia Before and After 1-3 weeks results 
HOW TO RECOVER FROM TRACTION ALOPECIA IN 2023
Ok guys I am back again with another hair loss story! I have had my fair share of hair loss. So 4 weeks ago I noticed some bald spots around my edges while I had a protective hairstyle installed. Protective Hairstyles like braids, weaves or crochet is meant to protect your hair but let's be honest if they are installed wrongly or kept for too long they will no longer protect your hair but damage it. Well, that happened to me, but I will share with you how I am restoring my edges and the bald spot to health. 
What Is Traction Alopecia?
Traction alopecia is a hair loss condition caused by constant tension and pulling on your hair or edges. It is very common in the African American community, due to the different protective hairstyles common in this community. This is one of the main reasons for this blog, as I intend to bring awareness to this hair loss condition and the various ways this can be avoided and treated.
HOW TO RECOVER FROM TRACTION ALOPECIA 
GIVE YOUR HAIR OR EDGES A BREAK
This is the first and most important step to take at the first sign of hair loss or bald spot. A lot of women make the mistake of not treating this right away and going back right away to another protective hairstyle, thereby causing more harm than good to the affected areas. Give it a break, and by a break I mean 2-4 months of no tension on your hair or edges while you regrow your hair or edges back to health. Yes, Sis, you can do this!
 TAKE GLAMMEDNATURALLYOIL HAIR GROWTH BIOTIN GUMMIES DAILY
Biotin also known as vitamin B7 hair growth vitamins are great for hair growth, stimulates keratin production in hair, and can increase the rate of follicle growth. I know this is one more thing to remember to do in your day, but your hair needs it, and will thank you. Treating this condition inside out will help to see results faster. I have shared some picture updates chronologically. Within 2 days of taking the vitamins and hair growth oil, my follicles are looking more visible and getting ready for growth.
   USE GLAMMEDNATURALLYOIL HAIR LOSS REGROWTH KIT CONSISTENTLY 
  The key here is consistency, anything you do consistently will eventually yield results. I was beyond dedicated to getting my edges back, so I wasn't going to allow inconsistency to stop me. I used the Ayurvedic hair growth serum every morning on the affected areas and the hair growth oil at night time. You don't need a lot to see results. They are made from the highest quality organic ingredients so a little of it goes a long way.
 LAST BUT NOT LEAST, PATIENCE 
I can't stress this enough, everyone's result is different, and everyone's follicles are also different. I can consider myself an expert based on my various hair loss regrowth journeys, so I know other hormonal imbalances or medications can affect your results. So, I advise you to give your hair and follicle time to recover while using these products. They worked for me as I am now on week 3 and I will be sharing my 4-8 weeks results in my next blog. So please stay tuned
 Apart from the best scalp oil for braids, at our online hair care store, you can get the best Bald spot treatment, Kids Hair Care Online, itchy scalp winter remedy, Fast hair growth oil, wild growth oil, Herbs for hair growth, and organic products for hair loss.