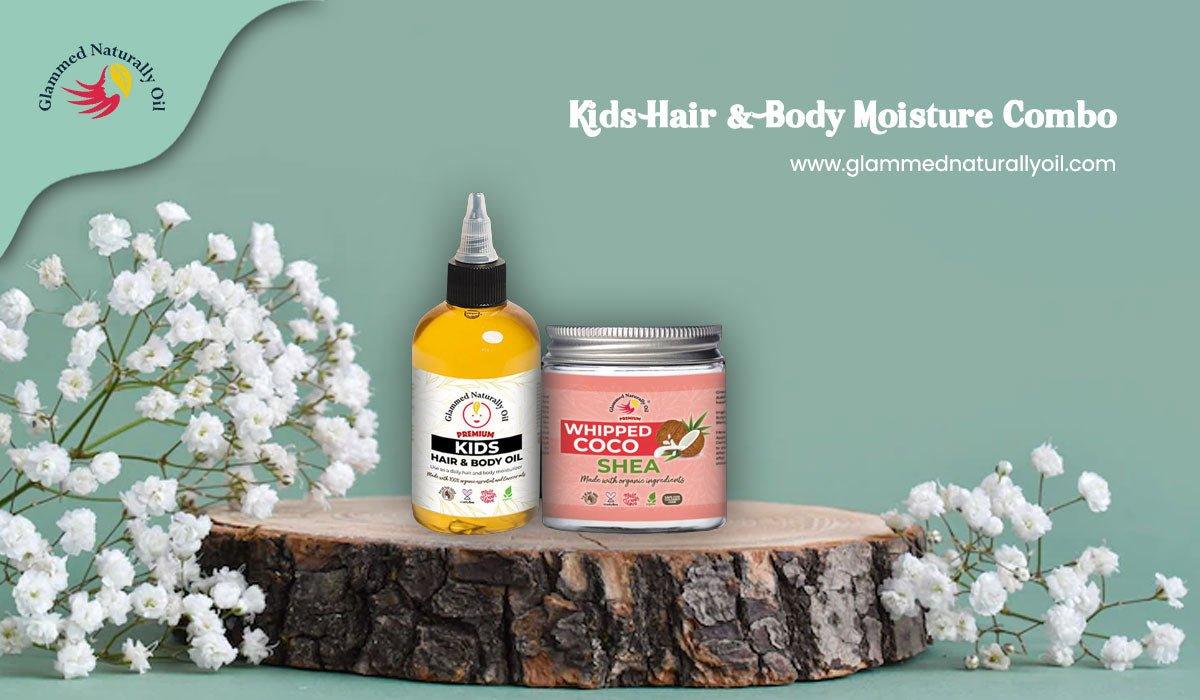 Importance of Natural Ingredients Like Kids Hair & Body Moisture Combo For Your Children
People forget to stay tuned with nature, but staying close to nature is blissful. What about if you share this same thought with your kids? Giving them all the natural and organic things. The main motive is to keep your little one away from the harmful chemicals. Unfortunately, many child care products contain toxic chemicals that are not gentle to a kid's delicate skin, scalp, and overall health. 
Say goodbye to all the toxic products and switch to the best natural kids hair & body moisture combo (mango butter). 
Organic Products or Ingredients: Top Reasons To Use Them On Your Kids
Adopting healthy habits starts at home. Kids grab anything new quickly, so this is the right time to introduce them to a healthy lifestyle and self-care habits. As they grow older, they will be habituated with such healthy habits. 
Child's Skin is More Sensitive 
Baby's skin always feels nice, and it's fragile, delicate, and very smooth. But it is susceptible too and tends to be more reactive to certain harmful chemicals. As per the reports of EPA, infants are more sensitive than adults, so parents should be more careful about it and only choose natural or organic products for their children. Parents can use coco shea coconut body butter for smooth and soft skin. 
Kids are More Susceptible To Infections
When your child gets habituated to a healthy lifestyle, it offers them several benefits. It protects their health and well-being, and it also boosts their immunity. Chemical products can make your little one sick, and they can be affected by some allergic types issues because their health is not properly ready to fight such toxic infections. Children are not so conscious about such things, that's why as parents, you should provide them the best, only organic products like kids hair & body moisture combo (Mango Butter).  
All Organic Ingredients Improve Health Without Causing Damage
Organic or natural products' ingredients never go through the chemical process. That's why whenever you are supplying your children with nature-powered products, you are creating a shield to protect them. Organic products and ingredients always improve health without causing damage. Whether it is body care or the hair growing gummies, there is no match with the organic ingredients. 
Natural Ingredients Provide More Nutrients for Children
Childrens need more nutrients and fibers, which come from fruits and vegetables. It's a matter of nutrient density, and organic personal care products contain many vitamins and minerals. Your kids will get more nutrition and care from the glammed naturally oil. The products also take care of your child's hair, scalp, and skin; infact, the products reverse heat damage to natural hair. 
Organic Products Provide Children With Better Sleep
An adult's body can adjust to less sleep, but children need better rest for growth development and cell repair. Natural ingredients boost better sleep, especially when you use essential oils. Many natural products are formulated with such oils because it has antioxidant properties and high nutritional value. It allows your kids to feel soft and have a sound sleep. Organic products like kids hair & body moisture combo (Mango Butter) make your kid's skin more delicate. 
Organic Ingredients are Environment-Friendly
Some artificial ingredients like BHA, BHT, Triclosan, and other types of synthetics in soaps and shampoos harm the environment. But if you use organic products like kids hair & body moisture combo (Mango Butter), it neither harms the environment nor your baby's skin. Babies are very sensitive, so it's your responsibility to choose the right products for them. When you use chemical shampoo to wash kids' hair, it makes them cry as it contains some harsh chemicals. But with ayurvedic tea rinse for hair, you will always see the smile on your kid's face. 
Tips for Parents
Your child needs your protection, so create an organic shield around your child with natural products like kids hair & body moisture combo (Mango Butter). You can purchase all of the baby care products from our online store. 
But make sure to remember that your kids are not fully aware of the harsh chemicals and the world. So, protect them with healthy and natural products.