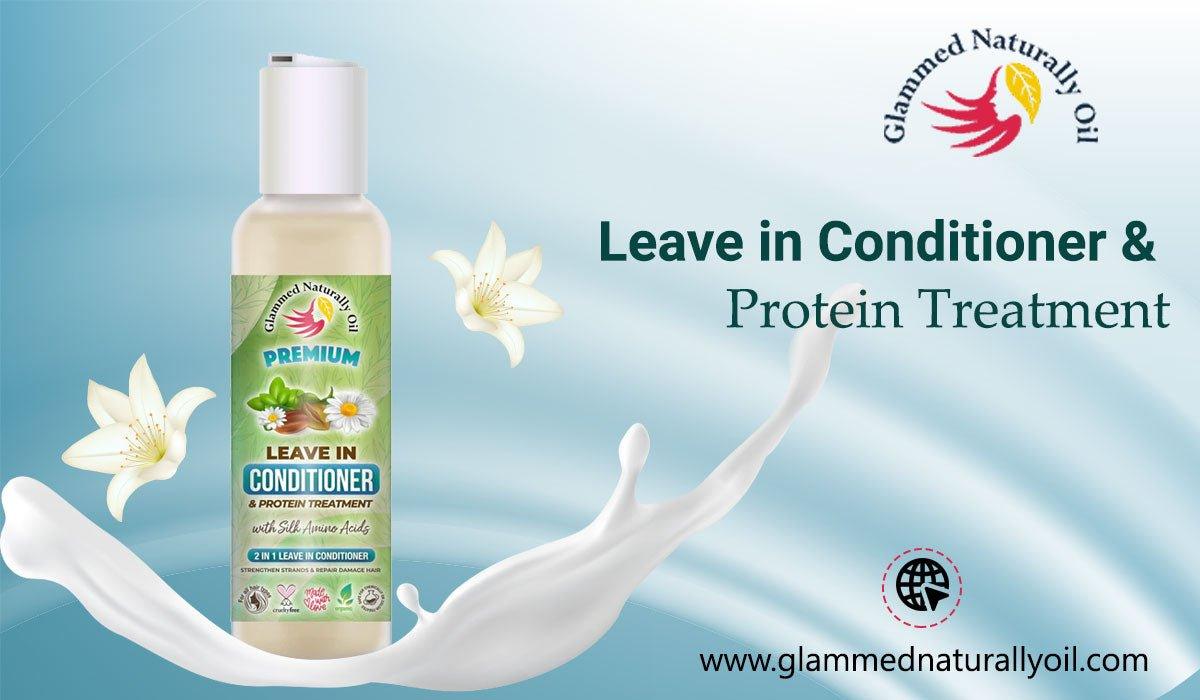 Everything You Need to Know about Leave in Conditioner & Protein Treatment
When you are almost devastated with different hair problems and very tired of using chemical conditioners at the same time, the only thing that can help you in that situation is the 2 in 1 Leave in conditioner & protein treatment. Along with dryness, the product is excellent in repairing your hair and making it moisturized once again. Even, this conditioner contains different anti-inflammatory properties that keep your scalp and hair healthy. So getting into details, today we are going to discuss everything you need to know about this product in this blog section.
4 Main Ingredients of the 2 in 1 Leave In Conditioner & Protein Treatment
Castor Oil
When your hair badly needs conditioning, castor oil is one of the most dependable natural products that will nourish your hair to keep it well-conditioned. And this is the reason we use this powerful natural oil in Leave in conditioner & protein treatment. With different nutritional and mineral properties, this oil trees your hair from dryness and promotes hair growth. Even amino acids present in this oil make this conditioner prominent to keep your hair healthy.
Jojoba Oil 
While the main role of a conditioner is to moisturise your hair, it is very important to add a moisturising agent to it. And that's why we have chosen jojoba oil, a proven hair moisturising remedy for dry hair and scalp.  The oil's antioxidizing properties make it suitable for this hair conditioner. You must know that a conditioner is not a quality conditioner unless it has antioxidizing properties. Meanwhile, jojoba oil with vitamin E gives this hair conditioner the power to work as an excellent antioxidant.
Hemp Seed Oil
If a conditioner doesn't contain hemp seed oil, then it is not worth investing in such a product. While many people confuse hemp with marijuana, they are not. Hemp does not contain THC and is enriched with different essential natural antioxidants that are perfect for hair. Even this oil contains nutrition from omega 3 to omega 6 along with fatty acids which make Leave in conditioner & protein treatment a perfect protein remedy for hair.
Organic Nettle Extract 
Nettle leaves are rich in silica and sulphur. This helps in making hair shinier and healthier. Rinsing hair with nettle extracts and water results in re-growth of lost hair and also helps in restoring the original hair color.
5 Benefits You Can Get By Using  Leave In Conditioner & Protein Treatment
Protects The Cuticles
Amongst the various benefits of Leave in conditioner & protein treatment, protecting the cuticles is foremost important. A cuticle is the outermost layer of hair, which has scale-like cells, overlapping each other.  These cells act as a defense mechanism and protect the inner layer of layers. And ensuring their safety protects your hair and overall system of hair growth. 
Imparts Instant Shine To Hair
When you are tired of dry, rough, and damaged hair, all you need is a good hair conditioner. A good quality conditioner provides intense hydration along with essential nourishment to intact your hair health. Moreover, nutrients and minerals values ensure the strength of your hair. 
Prevents Hair Breakage
When your hair is tangled, you become more vulnerable to frizziness, split ends, and breakage-prone hair. Leave in conditioner & protein treatment helps in protecting your hair from such vulnerable damage. Hair conditioner helps in making your hair smooth and this, in turn, gives you tangle-free silky hair.
Repairs Chemically And Heat Damaged Hair
Many people use heat styling tools and chemical treatments on their hair. Though they are not very harmful, overuse can severely damage your hair. This ultimately makes your hair extremely dehydrated,  weak, and thin. Fortunately, hair conditioners do a wonderful job in bringing chemically and heat-damaged hair back to life. 
Keeps The Hair Moisturized
Conditioner also helps in infusing the lost moisture back into your hair strands. Besides, you can also reduce hair fall by strengthening your hair strands with this product. Even the rich source of fatty acid and antioxidants in this moisturiser repair rough hair and split ends.
These are all important things you need to know about conditioner & protein treatment. If you want to buy this product along with
Ayurvedic Hair Growth Serum
,
Handmade hair growth products
,
Ayurvedic tea rinse for hair
, and
mango shea butter
visit our official website.