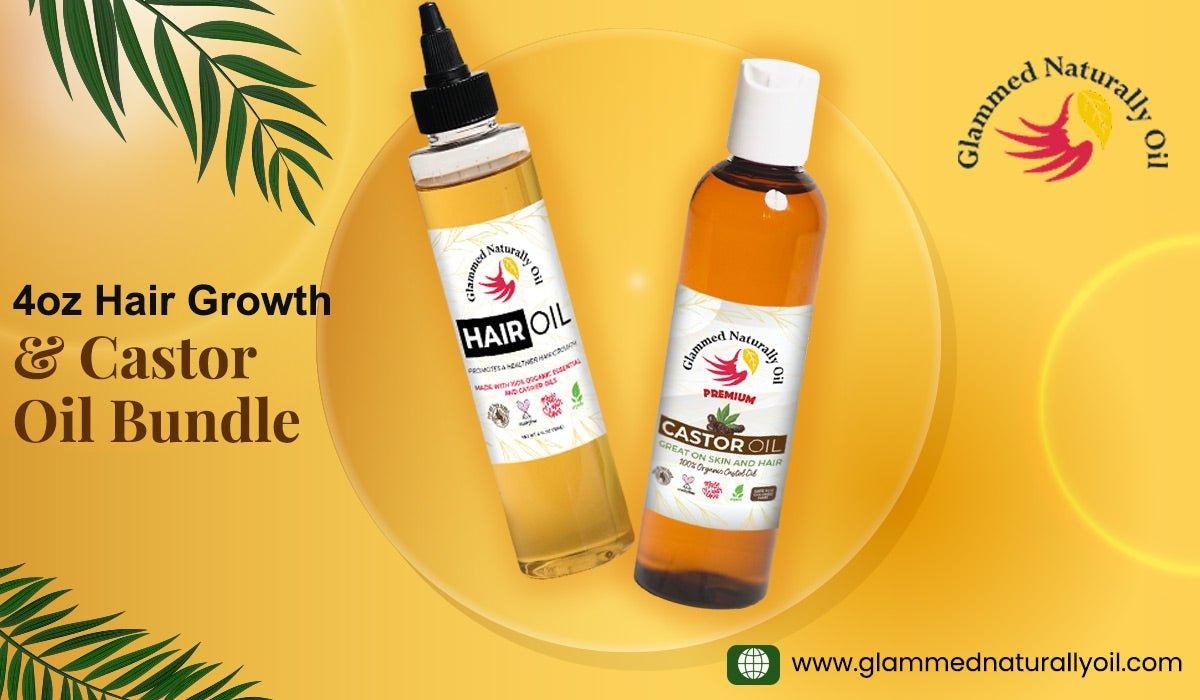 4oz Hair Growth & Castor Oil Bundle - The Organic Magic to Have a Beautiful Long Hair
How often have you tried to grow your hair and give up with a sad face? It never extends beyond the shoulders whenever you try to grow long, beautiful hair, isn't it? Neither you get thick nor volume hair, nor do you get long shiny hair. You are not alone in this rally; many people face the same difficulty to grow out long hair and keep it healthy and natural. 
First, you have to say 'goodbye' to all your chemical shampoos and oils. Make a habit of using natural oils, handmade hair growth oil that can help you from the pain of not having thick or long hair. 
These oils, like the 4oz Hair Growth & Castor Oil Bundle, are enriched with natural vitamins that help strengthen and length your hair. 
If you need hair treatment, you need to consult with your doctor or a specialist but for the magical and effective tips for sustaining hair growth with a natural volume, keep reading this article till the end. 
Castor Oil on Hairline 
A sticky and thick oil made from the seeds of a castor oil plant or Ricinus Communis. There is a craze for using castor oil, but without a proper formulation, you won't be able to get any benefit from it. Using our Organic Castor Oil on Hairline, you will get numerous benefits like- 
It promotes healthier hair growth.

It contains anti-inflammatory, antimicrobial, and moisturizing properties that help your hairline strong and provide faster hair growth. 

It removes the accumulation of dandruff. 

Castor Oil has antiseptic qualities that stop hair loss issues. 

Our organic castor oil contains ricinoleic acid that increases the blood flow in your scalp and strengthens your hair. 

Using the

4oz Hair Growth & Castor Oil Bundle,

you can prevent hair dryness, hair shed, and it promotes regrowth of hair on bald spots. 
Right Procedure for Using this Oil
If you want the good benefits, you have to properly use the magical 4oz Hair Growth & Castor Oil Bundle. There is a right procedure for using this oil on your scalp and hairline. 
Take a few drops and rub it gently into your hair, starting from the roots to cover the full length to the tips. Repeat this process slowly and cover your full hair. You will start to see the benefits quite fast. If you are not familiar with daily use, there is no need to use it two times a week, and you will get impressive benefits. 
Wild Growth Oil is an Excellent Hair Care Product
This Wild Growth Oil is a magical product that works amazingly on hair repair and hair breakage control. It increases your hair grow rapidly, and the best part is it is suitable for all kinds of hair. 
Kick out all your chemical substitute and use this natural oil containing all the natural ingredients. This 4oz Hair Growth & Castor Oil Bundle includes all the organic herbs for hair growth and controlling the frizz and fly issues. 
Benefits of using this oil - 
It provides you with faster hair growth

Improves your hair condition that everyone notices

Add a natural shine and luster

Massively increase your hair volume and body

True management of tangles and frizzes

True hair relaxing agent
How to Use Wild growth Organic Oil 
Use 1 to 3 times per week; take only a few drops to get healthier, longer, softer and shinier hair. Shake well before use, and apply sparingly with the pointed bottle on your full scalp area. 
Say Goodbye to Bald Spots Using This Essential Oil 
This organic essential oil 4oz Hair Growth & Castor Oil Bundle has amazing proven records. This oil is the extract of certain herbs and seeds, a handmade organic oil that promotes faster and strong hair growth. It stimulates the scalp and hair follicles so that you get thicker, longer and stronger hair than before. 
Using this oil 1 to 3 times per week can bring amazing results. It will give you thicker hair, but it will also regrow the hair on your bald spots. Use this handmade organic oil for a quick and fast outcome and have long, beautiful hair.