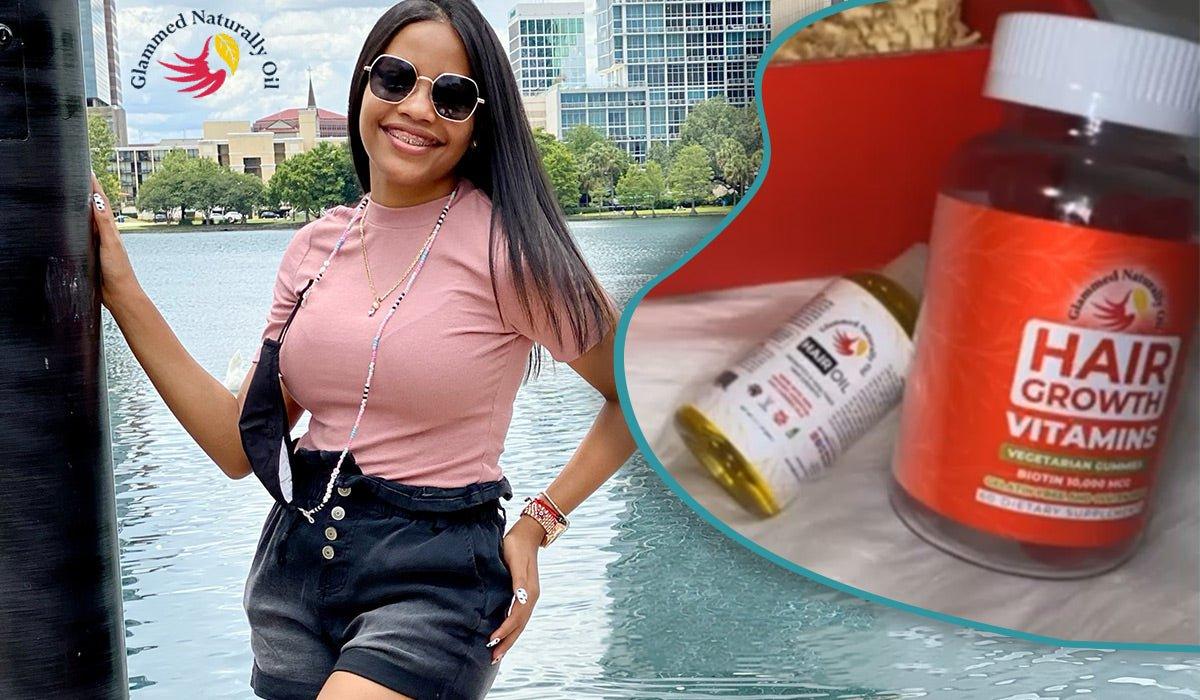 Why Should You Use The Best Glammed Braid Oil For Women And The Benefits It Offers?
We all love to style our hair into different and trendy hairstyles. But, sometimes happen that we get itching and dry scalp with excessive use of braiding, isn't it! So what is the cause behind itchy and dry scalp, do you have any idea? Well, I can simply elaborate on this issue, as I'm too going through this phase and it is quite irritating. So what's the solution? Have you ever heard about the best Glammed Naturally Oil hair products? I'm using their products lately and braid oil for women is one of them. It is quite effective and also reduces my scalp issues, how? Let's check this out in this blog!
Why Do We Get Itchy Braids Sometimes?
There are many reasons which usually cause Itchy braids and these braids itch due to the following factors, such as;
Tight braids might cause scalp irritation.

'Sandy' hair because of a day out-and-about on the beach.

Infrequent oiling of the scalp.

Sweat and oil are trapped in the hair.
Apart from these external factors, your hair itself may sometimes make your scalp raw, tender, and itchy. However, it is important to dilute any essential oil with a carrier oil like jojoba, sweet almond, or coconut oil to prevent irritation. Or you can also buy the best braid oil for women that are already diluted with various organic oils. And it is quite effective and resolves my hair issues within a week.
Here Are The Best Types Of Braid Oil For Women
Undoubtedly, oil plays a vital role in keeping hair healthy, especially when you are suffering from hair issues. Though I love to have a braid that simply looks amazing on me, sometimes they are the reason my scalp gets irritated. But, one of my friends recommended to me the best hair products from Glammednaturally, it is quite effective. And what are they, let's delve Into this blog!
Lavender Oil

 
This oil is very beneficial for your scalp if you use it daily and it also helps to reduce anti-bacterial and anti-fungal scalp issues which usually arise due to a lack of care for braid. So, I started using this oil and I was surprised to see the results after only using it for a month. It has strong antimicrobial qualities that it helps to prevent the scalp from dandruff, lice, and excessive itchiness from your hair by considering lavender oil.
Coconut Oil 
Braids are the most simple and go-to-go hairstyles that every woman loves to do. And if you avoid taking care then it might get rough and dry which leads to an itchy scalp. So, I usually do the same which, unfortunately, makes my hair so dry and rough, and sometimes it gets itchy too. So, I decided to use the best braid oil for women, which is coconut oil. Its vitamins, minerals, fatty acids, etc, help to resolve my hair problems. And now I can make more braids and it never gets dry or Itchy and also provide moisturization to my scalp.
Rosemary Oil
Many people don't have used this oil, since we rarely get this oil in every store. But you can buy this from the Glammed Naturally oil website. And of course, you will be amazed to know about the benefits of using this oil. I'm using this oil and it is firmly best known for its dandruff-killing ability. And it helps to reduce my issue of dandruff. Undoubtedly, this oil is a perfect choice for a braid hairstyle. And the dandruff killing ability of this oil makes it the best braid oil for women with itchy and dry scalps.
Sesame Oil
Lately, I'm using Glammednaturally sesame oil for my Itchy scalp due to braid. Using sesame oil on our scalp and hair may help reduce dandruff, which is often caused by a fungus or bacteria. And its natural properties help to reduce various scalp issues which usually cause stunning hair and hair fall. Undoubtedly, this oil is also considered the oldest hair remedy for your hair. 
Not only this, using sesame oil helps to nourish the scalp along with reducing various scalp bacterial and fungal issues. And all the credit goes to the best braid oil for women from Glammednaturally.

I would immensely recommend using the best braid oil for women that provides amazing benefits, reduces the issue of an Itchy and dry scalp, and nourishes your hair. And you can also use the best hair growth oil from Glammednaturally to grow your edges fast from Herbal hair tea rinse. There are other hair products too that provide enormous benefits to our hair, such as hair growing gummies, Fast hair growth oil, and Ayurvedic herbs for hair growth. For any queries contact us today!
Audreys Vargas